10th year anniversary competition #1
Monday 19th January, 2015

10 comments
Posted by Roguey, Global Admin
.
Back in December you may of heard that the site reached 10 years. In celebration I have been gathering a few games for a give-away (via Steam). For the next couple of weeks, I plan to give-away a free game to a lucky member, drawn from a free-prize draw.
All you need to do is to comment on this news-post (on the site, not Facebook) with
:10years
in your message (please make sure you put a space before the two dots, so the emoticon shows correctly). I will close the draw on Sunday (25th), where one person will be selected from a box. On the Monday afterwards I will start another give-away, where you need to re-enter.
For my first give-away -
Tomb Raider GOTY Edition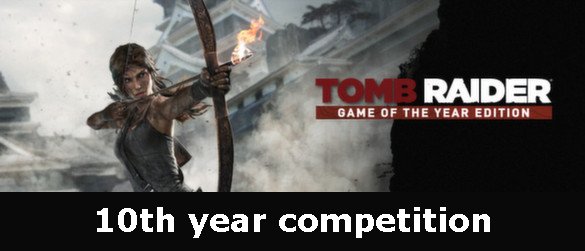 Rules
:
- You must be 18 or over to enter (since this game has a 18 certificate),
- You must be able to receive the prize in your area and will need a steam account,
- There is no cash prize alternative, if the winner can not accept the prize then another will be chosen at random,
- I take no responsibility for any problems, technical support required. Its your responsibility to make sure you have a computer good enough and that it will run correctly,
- One entry per person, multiple entries could see your name removed from the draw,
- Family members of the site can not enter,
- This is a free-prize draw,
The winner will be contacted via email, for their steam account details. After-which the above prize will be sent.
By entering into this competition, you agree with all the above rules.
Add your comment
| | |
| --- | --- |
| | To post comments you need to register and log-in. |


Roguey

• 2 years ago


This completion is now closed...

Result:




Next completion opens tomorrow.



MacRaven

• 2 years ago


I just want to thank baby Jesus and Elite Dangerous.....LOL just kinding.No really thanks Roguey this is awesome



Mayak

• 2 years ago


nice one! :-)



WinkyWoofWoof

• 2 years ago


happy 10th anniversary



MacRaven

• 2 years ago


Good job on the bud



TC Mahmut Ferit

• 2 years ago


Hi Roguey;
I want to congratulate yours 10th year anniversary.
I hope I will congratulate 15th, 20th, ... etc anniversaries



rivasilvercrown

• 2 years ago


Congratulations! There are not many webpages that make the big 10... Now let's go for the next anniversary



TheWhiteTiger

• 2 years ago


Happy Anniversary



Tarzan

• 2 years ago


Awesome!



jack775544

• 2 years ago


Woo
Even though I might not comment very much on your posts Roguey I do read most of the stuff that you upload to the site. Good to see you are still going strong after all this time.