Roguey's blog
Warning
: Missing argument 2 for return_user_banner(), called in /home/roguey/public_html/blogs/user.php on line 54 and defined in
/home/roguey/public_html/users/modules/user_banner.php
on line
6
PS3 » Over 2,000 ps3 trophies
I have just gained over 2,000 trophies on the PS3. This is a bit of a landmark for me, as I normally take my time with games. I normally try to get the most trophies from a game before moving onto another, although I do have a few games on the go atm (Little big planet 2, Assassins creed: brotherhood, gt5, fallout: new vegas, blood stone and few more).
I am trying to finish off Fallout3: New vegas, however it is fighting back with crashing. It even crashed when I went to start the game

Posted by Roguey
on Sunday 10th April, 2011 ·

1 comments
·
siteadvisor.com HTTP 2xx or 3xx status
After the recent report from bing I wanted to check the site to see if any other site reports any malware, or a reason why bing thinks there is. I thought id try siteadvisor to see, however when I go to add this site it just comes up with:
It appears that the Web site roguey.co.uk (or www.roguey.co.uk) is returning an HTTP 2xx or 3xx status response code in the header of 404 pages
Ive checked everything here, and our 404's are correct. Oh well, stupid site

Posted by Roguey
on Tuesday 29th March, 2011 ·

0 comments
·
Bing activity but still low results
Bing seems to be going mad: Constantly I keep seeing
MSNBot
on the recent unique visitors on the extreme counter (the blue planet icon at the bottom). So at-least the bot is actually visiting the site now. However... the status have only slightly improved (since last time):

I hope Bing's statistics start improving drastically, atm its taking a lot of bandwidth and only sending very few people here. Maybe the bot has took an interest in X3? TC? Just look how low those clicks and crawls are!

Posted by Roguey
on Tuesday 1st March, 2011 ·

0 comments
·
Getting bing.com to crawl!
We get very few visitors from bing.com, something like 1-3 a day while google.com is sending 100's. I guess its because google has around 14,000 pages in its index vs bing's 900'ish. I have resubmited the sitemaps to bing (some were missing).
Take a look at these stats, they are terrible: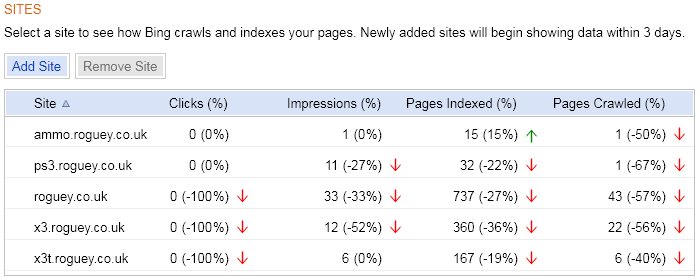 Compare them against google (showing just x3.roguey.co.uk)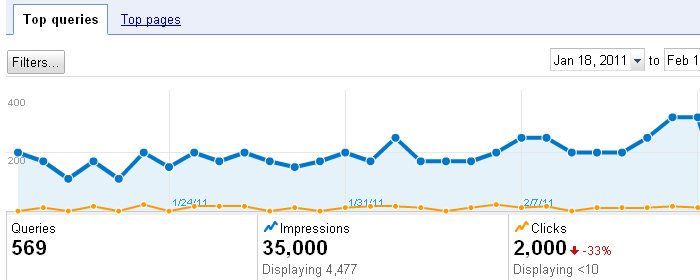 Or
x3t.roguey.co.uk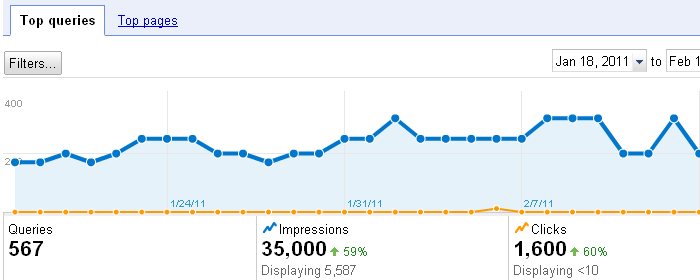 Posted by Roguey
on Sunday 20th February, 2011 ·

3 comments
·
The Art of Technology
Today, searching through my emails find out that Facejacker's - Brian Badonde has made some technology videos for bing.com. If your not familiar with Facejacker, the best way to explain it is that one guy plays the roles many
interesting
characters, one of which is Brian Badonde (an fictional art critic). In the
The Art of Technology
he explores technology.

I recommend a watch!
-
The Art of Technology
Posted by Roguey
on Friday 11th February, 2011 ·

1 comments
·