Horizons should launch on 15th December
Thursday 10th December, 2015

3 comments
Posted by Roguey, Global Admin
.
If all goes to plan, Elite: Dangerous - Horizons;
should launch on Tuesday
(15th December). Pretty much nearly a year after Elite: Dangerous launched (16th December 2014). A lot has changed since Elite: Dangerous v1.0; more ships, Close Quarters Combat (CQC), powerplay, fixes etc. I wonder what you found most interesting during the first year, let me know in the comments.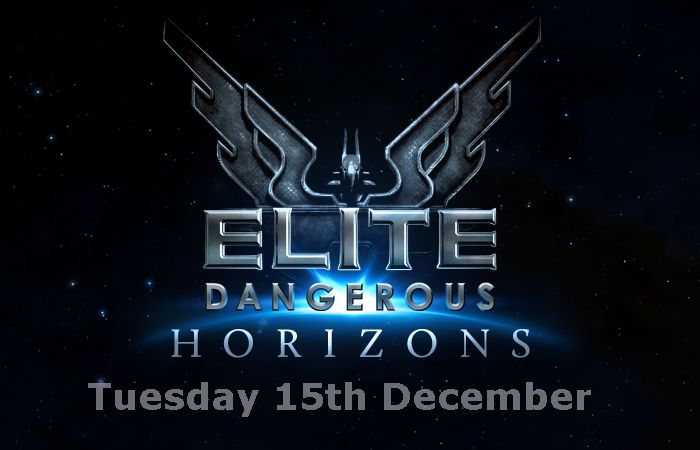 One of the main highlights of Horizons is the ability to land on planets (well some anyway). So far its been interesting exploring another
level
to Elite; as I remember planet landing from the old Elite's. Horizons also promises us another year worth of updates/additions to the game (such as crafting). Anyway, I thought ill give you an heads-up about the launch date.
Add your comment
| | |
| --- | --- |
| | To post comments you need to register and log-in. |


wakko151

• 1 year ago


We would love for you to join us in Syndicate space. I have been following your bullshit for years and still play your mod for X3AP on account of X4 sucking so fucking bad. I am a Black Flag Member and we live in The Syndicate space. Would love to see you around. We actually play in open and don't run to solo...



Roguey

• 1 year ago


@wakko151 im not sure whether to take your comment as positive or negative. hopefully you didnt attend it as hostile?



FishHook

• 1 year ago


After I earned enough cash I bought an asp and went exploring. Got my name on a few systems so that was pretty cool. After that though it dawned on me that there was nothing else to do but grind cash for the next ships. No enemies out there in the depths of space, no derelict ships or stations, or destroyed planets to find, just nothing.
Then they announced power play and I thought maybe we'll get to put a mark of our own on the galaxy, but its just an even bigger grind fest than trading goods. And now we get a full price expansion that doesn't add much content at all as far as I can see. Lets land on empty planets and do the same delivery missions that aren't even worth a glance when the anaconda costs a billion credits.
Maybe I've been playing too much x3 but a good xenon invasion would do a lot to spice up the game.