Ship builds now possible
Saturday 8th October, 2016

1 comments
Posted by Roguey, Global Admin
.
During the past couple of days, Ive been working on a feature to make it possible to save ship-builds. This allows you to create, share, comment and like/dislike builds.
For example, if you create a build in the ship section, you can go down to the bottom of the section and give it name/role, then click save. Now other people will be able to view it in the ship
build section
. You must be logged into do this.
In the ship build section, you can also add a description to the build (including youtube videos/pictures) and update the build. The build can be sorted by role, ship or most liked/disliked. The section probably still needs more work, but should be operational.
If you have any comments, suggestion or problems with the new section, please let me know. Hopefully ive got it all working. I do plan on adding a page so you can see all the various builds by a certain person, in-case you really like their builds.
The section needs some builds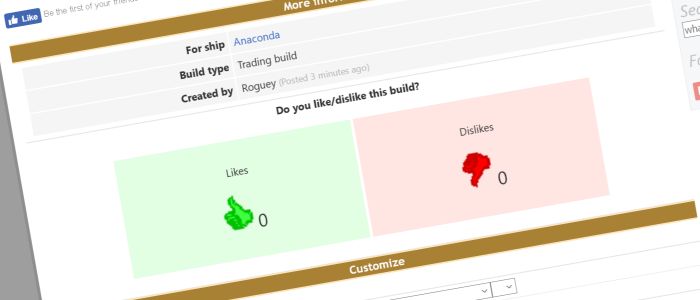 Comments
| | |
| --- | --- |
| | To post comments you need to register and log-in. |