Elite Dangerous 3.0: Beyond now out!
Thursday 1st March, 2018

2 comments
Posted by Roguey, Global Admin
.
The next big patch for Elite Dangerous is been released entitled Chapter one of Beyond. The Beyond series aims at improving the existing core elements by taking another look at them. In the first chapter, crime and punishment has taken some huge changes, engineers now roll set mods, materials storage has been increased, and any-more things.
Version 3.0 also includes a new ship - the
Alliance Chieftain
. This ship priced around 19mil, and aims to be a capable fighter. I will be posting a video on the ship soon. I did not post a video during beta because I head that the stats were going to be changed when the patch goes live. So I didnt want to create video based on old numbers.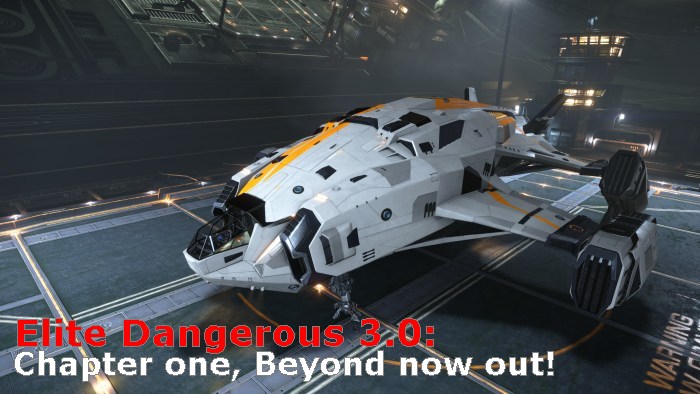 Another new 3.0 addition is Galnet Audio. This allows you to listen to the current happenings without having to read it via Galnet. You can put it on in the background, so you can listen to it whilst you fly around.
However the crime and punishment system still has its down fall. Players can still be rammed to death, so be careful in open - as always, and nothing has really done for combat-logging. Frontier still wants to do something about it, but hasnt yet.
For a complete list of changes, see Frontier's change log,
here
,
Comments
| | |
| --- | --- |
| | To post comments you need to register and log-in. |