10th year anniversary competition #3
Monday 2nd February, 2015

6 comments
Posted by Roguey, Global Admin
.
Well, our second anniversary competition finished now, with
Sgtglover
wining a copy of Batman: Arkham Origins - a big congratulations. I would again like to thank everyone who entered in the competition. Should we stop there?.... naaaaaah! lets start of draw number 3!
So, for the next competition you can win a copy of
Saints Row IV: Game of the Century Edition
(basically the full game with all the extra stuff).
Again, the same rules apply, simply comment on this news post with
:10years
. Please make sure the emoticon shows correctly. You must comment on the site, not Facebook. I will close this draw on Sunday (8th Feb), where one person will be selected from random. On the following Monday I will start the last/final give-away.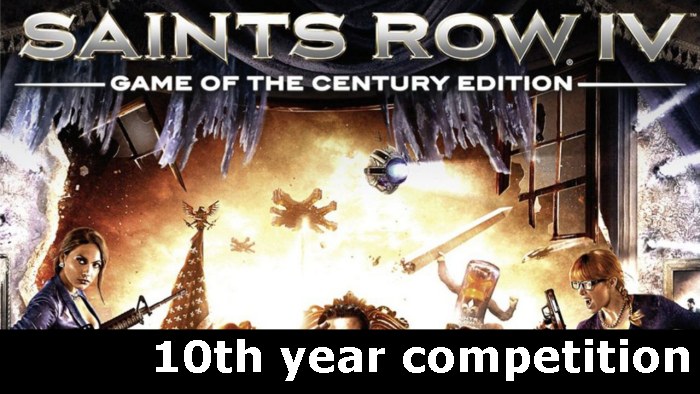 Rules:
- You must be 18 or over to enter (since this game has a 18 certificate),
- You must be able to receive the prize in your area and will need a steam account,
- There is no cash prize alternative, if the winner can not accept the prize then another will be chosen at random,
- I take no responsibility for any problems, technical support required. Its your responsibility to make sure you have a computer good enough and that it will run correctly,
- One entry per person, multiple entries could see your name removed from the draw,
- Family members of the site can not enter,
- This is a free-prize draw,
The winner will be contacted via email, for their steam account details. After-which the above prize will be sent.
By entering into this competition, you agree with all the above rules. Good luck all!
Comments
| | |
| --- | --- |
| | To post comments you need to register and log-in. |