Akasa Connect 4SV USB 3.0 hub
(Review)
As you upgrade your pc over time, you may find that you start running out of USB ports (especially those on the front of your case). In this circumstance you may wish to look at a USB hub. These little devices allow you to split one USB into many ports; so you can plug in multiple devices at once.
During the past week or so, I've been looking into getting a USB hub. I want one to power my mechanical keyboard and give a couple more USB slots locally (as my desk area is over 5 meters away). I also want the unit to be fairly neat and compact, as some USB hubs can get fairly big. This is when I came across the
Akasa Connect 4SV USB 3.0 hub
. This little HUB is pretty small and supports up-to USB 3.0 (5Gbit/sec) – which is more than enough (I don't actually have any devices which need 5Gbit).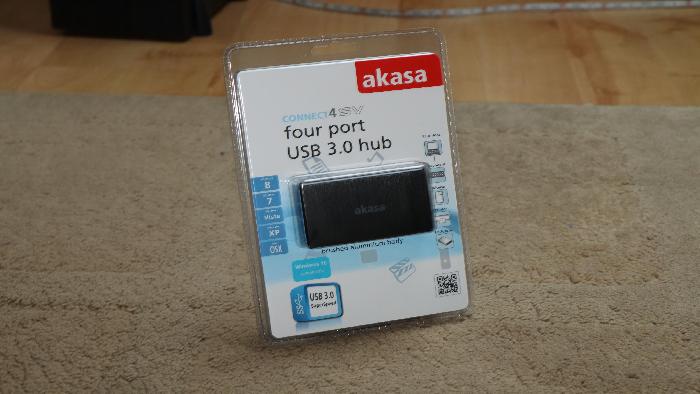 The hub itself measures 85x50x18mm and weighs around 150g. It has a brushed aluminum look which makes the unit look very clean, especially with any black case. On the back there is single USB 3.0 input, a blue power led and an optional DC input (5v). On the front there are four USB 3.0 outputs.
The unit does not come with a power adapter which is a bit of a shame. So if like me, you will need to either find a compatible power adapter (5v, positive in the inside, 1.3mm) or buy the Akasa DC adapter (AK-PAHUB-UK for the UK version). Akasa choose to use the smaller DC plug (1.3 mm) which is some-what trickier to find, rather than the more standard 2.1mm DC plug. It would have been nice if the hub came with the power adapter but the price reflexes that.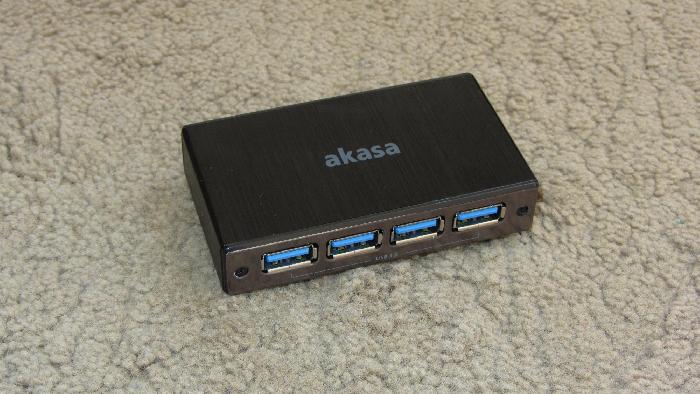 After opening the packing you will find the hub itself, some instructions and a short USB 3.0 input cable. The input cable only measures 60cm long, which should be enough if your USB plugs are on the back of the pc, or fine if you are using it on a laptop. The underside of the unit is magnetic, so you can stick it to the side of your case without having to use horrible sticky tape (which usually always leaves sticky residue).
So all in all, if you're looking for a neat little USB 3.0 hub, then Akasa Connect 4SV might be a good choice. It can be powered but you will need to find a compatible power adapter.
Our score
by Roguey
Log-in to score..
User score
0.0
out of 10
based on 0 votes
Summary
The good
Neat and compact with a nice aluminum look,
up-to USB 3.0 (backwards compatible; 1.0/2.0),
Can be made into a powered hub,
Magnetic underside,
The bad
The USB input cable is short and may limit its position in some applications,
AC adapter not included and must be brought separately,
1.3mm DC jack is somewhat trickier to find,
« Back to reviews
Comments
| | |
| --- | --- |
| | To post comments you need to register and log-in. |