Split Acinonyx Prototype
(M6)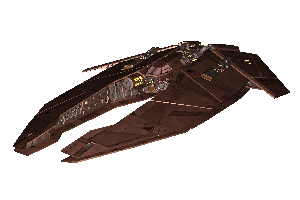 This unique ship was custom built to act as a testbed for newly developed technologies. It was designed completely from scratch to incorporate Ho t'Sht's prototype Matter/Anti-matter engine. Equipped with expanded laser generators for weapons testing and missile systems, which have been modified to launch bording pods, the Acinonyx Prototype is a force to be reckoned with.


Summary
id
SS_SH_S_M6_SPECIAL
Price
25,249,856 credits

(100,000 notoriety points)

Acceleration
7.0 to 13.3

m/s

Engine speed
100 to 190.0

m/s (x9 engine tunings)

Turn speed
3.4 to 8.8

rpm (x16 rudder tunings)

Shields
3 x 200 MJ Shield (7 mins, 24 secs,

33% efficiency

)
Hull strength
360,000 points
Weapon energy
25,000

(+ 2,100.0J/sec)

Cargo-bay
800 - 1,000

(XL sized)

Production at HQ


5 hours, 24 mins, 37 secs.
Weapons
12 x Cockpit
Shield/min
Hull/min
Projectile speed
Life-time
Distance
Mass Driver
0
33,333
739

m/s

1.4

sec

1.0

km

High Energy Plasma Thrower
564,623
93,962
431

m/s

5.4

sec

2.3

km

Concussion Impulse Generator
588,375
196,125
420

m/s

8.3

sec

3.5

km

Ion Shard Railgun
616,385
222,000
498

m/s

6.7

sec

3.3

km

2 x Top turret
Shield/min
Hull/min
Projectile speed
Life-time
Distance
Particle Accelerator Cannon
362,827
44,921
703

m/s

2.7

sec

1.9

km

Mass Driver
0
33,333
739

m/s

1.4

sec

1.0

km

High Energy Plasma Thrower
564,623
93,962
431

m/s

5.4

sec

2.3

km

2 x Bottom turret
Shield/min
Hull/min
Projectile speed
Life-time
Distance
Particle Accelerator Cannon
362,827
44,921
703

m/s

2.7

sec

1.9

km

Mass Driver
0
33,333
739

m/s

1.4

sec

1.0

km

High Energy Plasma Thrower
564,623
93,962
431

m/s

5.4

sec

2.3

km

2 x Rear turret
Shield/min
Hull/min
Projectile speed
Life-time
Distance
Particle Accelerator Cannon
362,827
44,921
703

m/s

2.7

sec

1.9

km

Mass Driver
0
33,333
739

m/s

1.4

sec

1.0

km

High Energy Plasma Thrower
564,623
93,962
431

m/s

5.4

sec

2.3

km

Mobile Drilling System
7,086
19,500
84

m/s

57.5

sec

4.8

km

Tractor Beam
0
0
4,000

m/s

0.5

sec

2.0

km
Missiles
Available missiles
Group
Damage
Projectile speed
Life-time
Distance
Mosquito Missile
Counter
200
700.0

m/s

20.1

secs

14.1

km

Wasp Missile
Light
1,000

x8

560.0

m/s

32.4

secs

18.1

km

Silkworm Missile
Light
19,000
228.0

m/s

123.0

secs

28.0

km

Hurricane Missile
Light
6,000
560.0

m/s

51.9

secs

29.1

km

Remote Guided Warhead
Light
100,000
170.0

m/s

465.0

secs

79.1

km

Firelance Missile
Light
4,500
600.0

m/s

30.5

secs

18.3

km

Wildfire Missile
Light
15,000
295.0

m/s

112.0

secs

33.0

km

Thunderbolt Missile
Medium
75,000
235.0

m/s

333.0

secs

78.3

km

Tempest Missile
Medium
60,000
235.0

m/s

264.0

secs

62.0

km

Cyclone Missile
Medium
23,000
175.0

m/s

338.0

secs

59.2

km

Tornado Missile
Medium
50,000

x8

312.0

m/s

80.0

secs

25.0

km

Windstalker Missile
Medium
30,000
220.0

m/s

101.0

secs

22.2

km

Banshee Missile
Medium
74,000
185.0

m/s

87.0

secs

16.1

km

Hammer Heavy Torpedo
Torp_capital
375,000
300.0

m/s

251.0

secs

75.3

km

Boarding Pod
Boardingpod
5
650.0

m/s

138.5

secs

90.0

km
Comments
| | |
| --- | --- |
| | To post comments you need to register and log-in. |