News
The first release; Rogueys X3AP Mod v1.0
Its been a long time in development, but the time has finally came to officially release the new mod for X3AP;
Roguey's X3AP mod
. If you been following the news, you might know some of the features of the mod - however if not here's a quick run-through;
A new universe to explore (317 sectors, with new planets, suns, backgrounds),

49 more ships added from the X3-Mod (including the top-end M0 style ships),

A complete rebalance of all the lasers and missiles in the game,

More shield types added, such as XL and military ones,

The return of my old Hub, that allows capital ships to dock,

Return of the Auto-hull repair system, random events and random attacks,

New stations to find,
Whilst this is only a few of the points, it should give you some idea about the mod. Unfortunately this release does not contain a plot (and has a few
things todo later
). I am hoping that this release may encourage a MD writer or two to help (so a new plot can added in a future update). I would like to add a plot, but atm its more important to get a stable universe.
Anyway, I hope you enjoy the mod. I will be very keen to see what you think (hopefully see activity around the mod). So why are you waiting? there's a new universe to be explored, built-in or conquered! So without waiting longer, why not click the banner below and get some more information:

I also want to thank the following people for their help and suggestions;
XeNoN, Maverick, jjhawk
.
Ships stats etc. will be on the site soon.
X3TC/AP stats rebuild v2.0
Over the past few days you may of seen a few of the ship pages generate have a few problems; ie. missing ship-names etc. Well there was a reason to it; I was rebuilding the code.
Since developing the X3AP mod, I wanted my site to offer stats and maps on the new universe/ships etc. So I started on a
small
project that would read the game-files from X3AP/TC (exactly how X3Editor works). However after a few hours everything seemed to be going well, so wondered if it could replace my old code altogether. There has been times I would have liked to add more information but couldnt.
In the
old-way
I took the game-files and converted them into a table, then imported those into a database. This was a complex task / time-consuming process that made updating the pages hard work. This also limited the site because when I first imported I forgot to import some fields (like notoriety).
For the eagled-eyed ones, you may of noticed a laser, shield and missile sections pop-up on the X3TC and X3AP sites. These also use the game files directly, giving you much greater information on the weapons, missiles etc.
The new sections use my new design (which should be tidier) and should be much more detailed. The new format uses standard components, and means the use of flash has been greatly reduced (this should come as welcomed news on mobile-platforms). It would be possible also to support community mods too (ie. showing information on every ship in the mod) since this new code loads in game-files directly.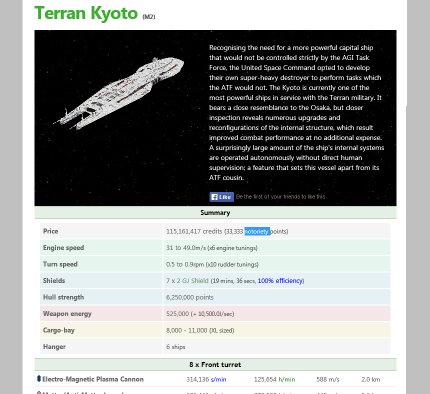 Please dont worry about your comments (they not been deleted)! The comments will return once I have resync the comments to the new locations. Once that is done then all the comments will reappear. I hope you like the new sections.
ps. All the data in them use the latest versions of X3TC/AP. So it should be all correct. I know the price column is a bit ball-park but it should be fairly close.
MD creators wanted (x3ap mod)
This is a small news post to asking for people with MD/scripting knowledge. In the new X3AP mod, we/I would like to add some new missions, events and maybe even a new plot to the new universe. I feel that it would make the mod better if the recent events where explained through a plot.

Myself I dont have any MD knowledge but can help out with either writing text, mod support and/or scripting. If no-one steps forward to help with the MD, then it will be doubtful new missions/plots will be added in first release (which will be a shame I feel).

So if youre willing to help, please let me know below! many thanks.


The Mass-Driver (x3ap mod)
One of the purposes to the mod is to improve things, including graphics and gameplay. So I will be taking a looking into the weapons. I felt the mass-driver (being a special weapon) lacked visual uniqueness. So, with a few adjustments - I have tried to make it more like a armour piecing machine-gun - how I feel it should be, rather than another laser. Hopefully you like the new mass-driver;





Older news