X3AP v3.0 out now!
Today egosoft have announced a new patch for X3: Albion Prelude, v3.0. The new patch adds 3 new plots (Shady Business, Corporation Troubles and Breaking Grounds + steam achievements), bug fixes and support for game-pad controllers (like the xbox360 controller).
In wake of the new patch, a new trailer has been created:
Thanks to all the community developers who helped create content for the new patch. I was glad I could help out in some small-way.

ps. The X3AP ship section has been updated with the new ships and changes.
Steam linking and achievements
During the past few days ive been busy working on integration with Steam, allowing you to link your Steam account with this site. This link allows you to sync your achievements from Steam X3TC and/or X3AP, and show others what you have from each game.
The first step is link your account with Steam. This can be done in
Update profile
, then click on
Sign in through STEAM
:

After clicking, you will be shown another screen explaining whats going to happen. Read the page, and when ready click on the steam logo at the bottom, this is where you be took to Steam to sign-in (check the address bar if unsure). Put in your details and you should be whisked back to my site. Dont worry, my site will not have any of your details just one id number which is vital for the link. My site will not, nor ever want your Steam account details. If a website other than Steam asks for your account details, do not enter them in!
Once the link is done, then you can sync your achievements with either my X3TC or X3AP lists:
I hope everything goes well and you enjoy showing off your achievements with others. I wonder if anyone has the X-Ranks? The new system also allows detailed information on each achievement, as well as the ability to comment on any of the achievements. I know some of you out there will have some great advice or tips to share.
This system is scalable and should be rolled out for X-Rebirth, if its on Steam. Its a shame the older x-games havent got achievements too (hint hint ego). I will also be adding information of your achievements to your profile's soon. If required, ill add page numbers to the achievers list too.
ps. Thanks to
Steam
for the API!
Superbox on steam now with 75% off
Now is a great chance to get all the x-games, because the x-super box is now just £9.99 on steam. Equally there is 75% all x-games for the next 8 hours. Also if you have missed any x-games, now is a good time to add them to your collection. I just thought I'll post encase you miss the deal, for more information see below:
-
X Super box
,
Last X-News for 2012
Egosoft have posted the last X-News for 2012 featuring some information on X-Rebirth, interviews, and updates. Egosoft have finally said about Rebirth being delayed although this information was already posted awhile back on their forums. Here a quick round up of whats in it:
X Rebirth community questions answered by Bernd,
Vote on X Rebirth concept art,
X Rebirth Music from Alexei Zakharov,
New retail versions of X3AP and X3TC,
Language support of the X3-Games,
New X3AP update in the works,
Mission Director Video Tutorials by Ketraar,
New external Script Editor by mr.bear,
In Summarily: Some info on Rebirth, a few updates about X3AP and
a new X3AP patch (v3.0)
(created by community developers) in the first quarter of 2013. The full X-News can be seen by clicking the picture below: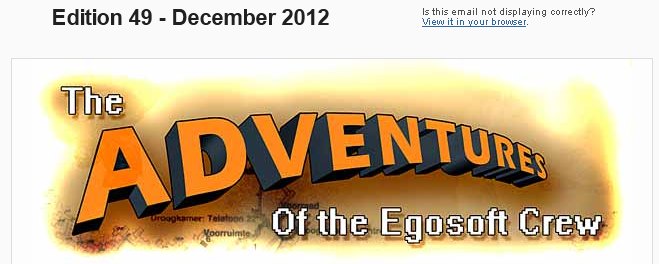 .
Older news