New Red Alert Synergy Mod Models
Added by The White tiger, on Saturday 28th May, 2011 |

2 comments
Recently some really impressive models of the
Red Alert Synergy
mod for Red Alert 3 have been posted by
SighNapse
. And these models show off the latest creations and weapons of the mod like the new Genetic Mutator, Psychic Spire and more. Check out these two samples below.
You can find more Red Alert Synergy mod models and screen shots,
right here
.

RA3: Unleashed Mod - New Chrono Transport Unit
Added by The White tiger, on Tuesday 26th April, 2011 |

0 comments
New video of
RA3: Unleashed
mod has just been posted, showing off the new Chrono Transport units. This unit has the ability to carry men and uses chrono technology to deploy them onto the battle field, although it's a bit defenceless against troops but it has been armed with an anti air protectile energy weapon in return. Check it out.
You can find more info on their
official website
.

RA3: Unleashed Mod - Model Update
Added by The White tiger, on Friday 11th March, 2011 |

4 comments
New in game screen shots and concept of the
Unleashed mod
have been shown, featuring the new United Coalition Infantry Battle Vehicle (IBV) which has been desinged by
James Richards
.
Visit the official
Unleashed website
for more screen shots and information.

New RA3: Paradox Minimod Revealed
Added by The White tiger, on Thursday 17th February, 2011 |

0 comments
RA3: Paradox
developers has just started a new mini mod for Red Alert 3. This mini mod will contain many new units, maps and more features too, as well as two of our minor factions, the valient ARVN and the tenacious Vietcong.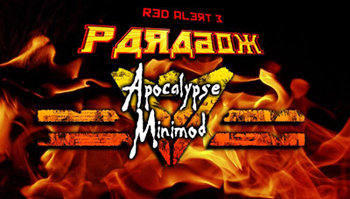 [*]A fully realized Minimod; no open beta here! Treads will turn, collapse models will burn, infantry will run, and all units will respond with unique voice overs.
[*]A new map, Welcome to 'Nam, playing a modified, Minor Faction-centric version of our Land Grab gametype, with unique props and foilage.
[*]Around 20 new units and structures, fully realized and detailed, from the bizarre Peacock Tank Destroyer to the terrifying Mammoth Tank.
Learn more about this new minimod
right here
.