News
Odyssey - Mostly Negative
Saturday 22nd May, 2021 · Posted by Roguey ·

0 comments
Elite Dangerous: Odyssey came out a few days ago now, however its come with its fair amount of bugs, glitches and performance issues. Unfortunately the
release version
hasnt majorly improved on the alpha a few weeks ago - performance issues were terrible. Im also disapointed to see no new ships or srvs where added at this point. Basically we got space-legs, some changes to the UI (equipping ships is a pain now), 2 elite ranks and other stuff. Im pretty sure we see more content and fixes in the future, but thats a pretty poor show now - to say content and fixes will come when we just had a big release.
Some call this release a
beta release
- which unfortunately fits well. The console version of Odyssey isnt due for 6 months, where quality control is much higher. In 6 months time im sure Odyssey will be in a good place by then. So the title of beta fits, which is unfair to PC players.
All this has landed Odyssey with a Mostly Negative on Steam review page (with only 34% postive feedback);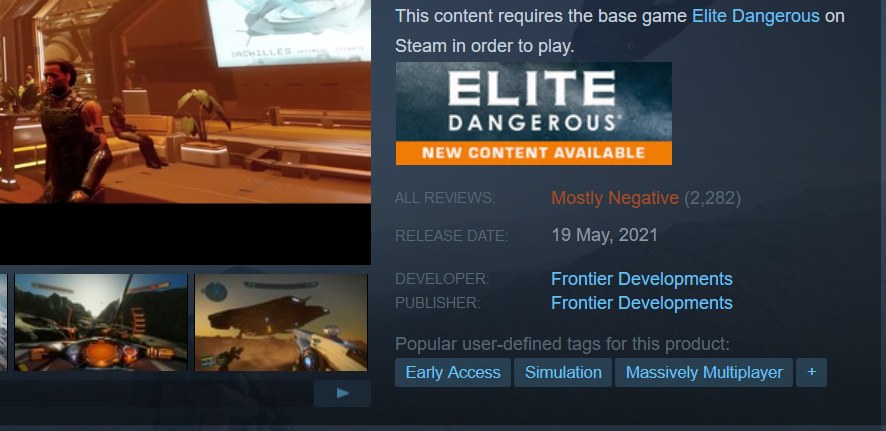 I really hope this spurs Frontier into action; to see a mostly negative on your new big shiny addon is pretty bad. However this isnt the first time ive seen this happen unfortunately - doesnt make it any more acceptable!
Odyssey launches today
Wednesday 19th May, 2021 · Posted by Roguey ·

0 comments
In a mere few hours, Elite Dangerous: Odyssey launches today. The new update promisses to bring a wealth of updates include the ability to walk around planets and stations.

Hopefully everything goes well, and the servers dont die. I hope much progress has been made during/after the alpha stage. I felt personally the alpha was some-what lacking - and required a lot more work. The short release date didnt leave much time either (maybe Frontier were holding back content?). Anyway, ship interiors wont be coming at this time - I know many commanders were keen this see this feature. I must admit it would be great to be able to walk around your-own ship; checking out the various subsystems, browsing your cargobay or spacewalks.

I also hope the performance is a lot better too, in the alpha 10-20 fps was common (on planets/space-legs).

You can preload the game now but have atleast 65gb ready, and the servers should be online shortly. Frontier have of-course a new trailer for Odyssey;




I hope you all have fun out there commanders! o7


Odyssey Now Available for Preorder
Tuesday 30th March, 2021 · Posted by Sinxar ·

1 comments
Deluxe version gains access to the alpha test that is in progress.
Head over to
https://www.elitedangerous.com/odyssey/
for more information about which platforms it is available on (pretty much all).
The alpha test is open to anyone who preorders the deluxe version that started on March 29, 2021.
Here are two recent videos, starting with a reveal trailer.
A short starport tour.
Are you planning on preordering? Have doubts about the expansion? Leave a comment!
Older news