News
A first look inside Fleet carriers
Wednesday 16th March, 2022 · Posted by Roguey ·

0 comments
With the recent disappointing news its good to focus on something postive. In the up and coming update 11 we will be able to walk around fleet carriers (something I felt was badly missing from Odyssey). This should give some depth to fleet carriers, as they felt like giant car-parks. I disliked how we were left looking at a cargo-bay door whilst the carrier does its jump sequence - hearing all the cool noises around us. I never understood why we didnt see an external camera, as I felt this would be much better.
Hopefully ability to walk around fleet carriers is the first of many - wouldnt it be great if we can walk around all the ships in the end?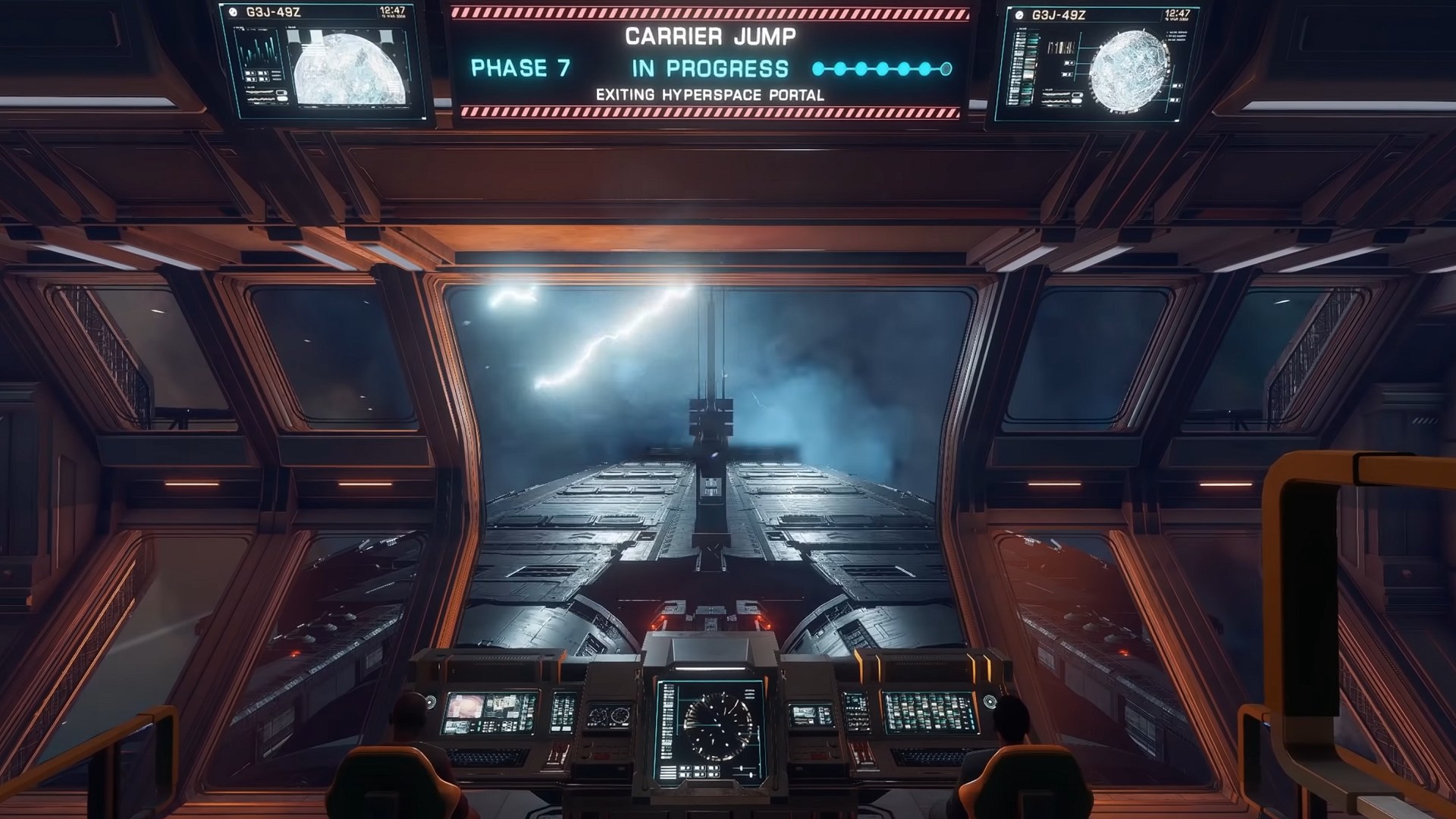 ObsidianAnt (most of you probably already know about) has posted a few videos showing you around a fleet carrier. The first you can see below;
I do hope with the recent news doesnt mean we wont be seeing more ships, after-all for me the space-part is more important to me. Maybe this is what they meant by adding Odyssey content? ie. more space-leg content?
Is Elite Dangerous EOL?
Friday 11th March, 2022 · Posted by Roguey ·

2 comments
Recently Frontier's David Braben posted an development Update on the future of Odyssey. It reads as follows;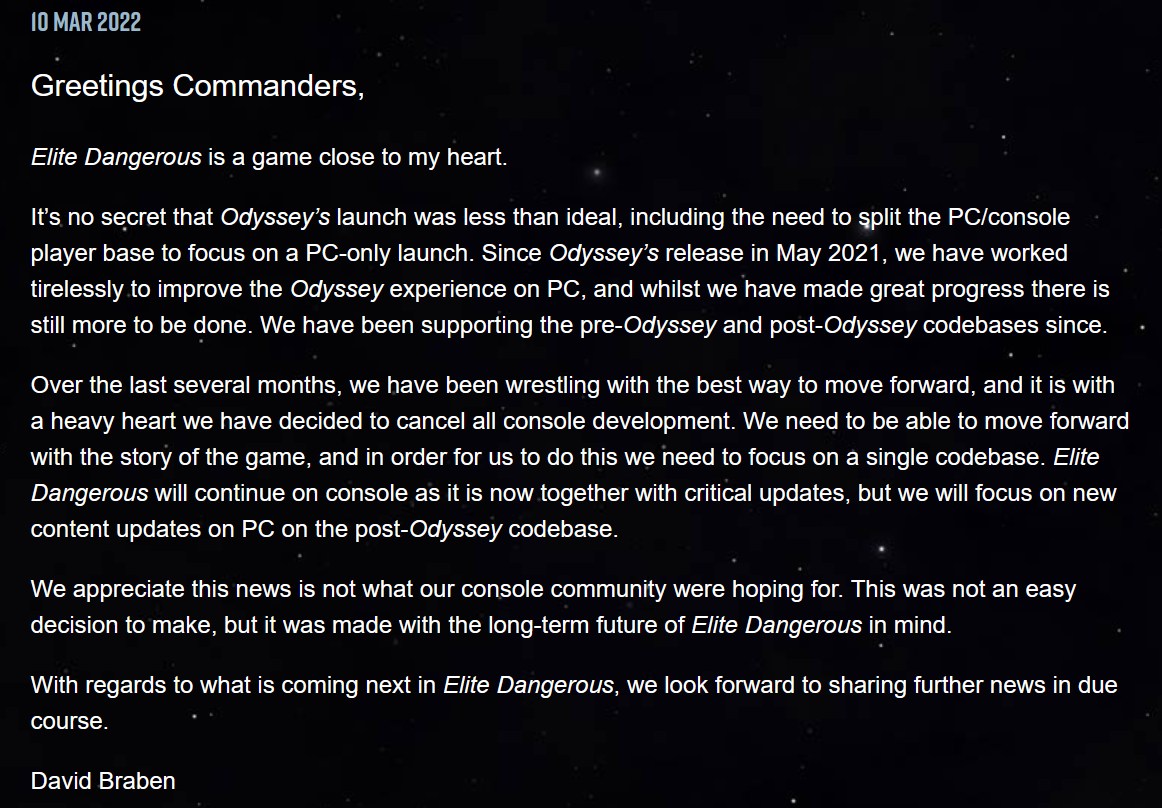 Source:
Odyssey Console Development Update
So
in the first section
, he admits Odyssey was in a bad place on release (something we all probably knew). At first we were told Odyssey wouldnt be
fixed
until the console version was released (PC players were left with an unfinished addon). This decision was later revoked, as Frontier decided to continuously patch Odyssey on PC. Odyssey is still not in a great place but is a lot better than its first release.
So now Frontier have admitted the console version of Odyssey has been cancel alltogether. So im guessing they had too many problems getting Odyssey to work on console. Frontier is a company who chases the money, evident by its in-game store, eagerness to delay pc updates and porting the game to the console in the first place. Im guessing the consoles (with thier limited resources) couldnt run the game successfully (PC has more resources and can overcome poor optimization by brute-force).
The second part
of the update says Frontier will not be updating the original base-game or Horizons any-more (Both PC and console). Instead they will be focusing on a single code-base: Odyssey. That would suggest nothing major will be introduced into the game now. New content such as ships may not come? For a ship to be added both the base-game and Odyssey would need to be updated to incorporate them - as they are common thing in both versions of the game (code would need updating). So new content will be only for Odyssey now; guessing such as ground-combat, guns etc. - maybe im wrong?
So that begs the question; if Frontier are pulling resources away from Elite, does that mean Elite is reaching its end of life (EOL)? Does that mean the space-part of the game is staying as is?
Odyssey - Mostly Negative
Saturday 22nd May, 2021 · Posted by Roguey ·

0 comments
Elite Dangerous: Odyssey came out a few days ago now, however its come with its fair amount of bugs, glitches and performance issues. Unfortunately the
release version
hasnt majorly improved on the alpha a few weeks ago - performance issues were terrible. Im also disapointed to see no new ships or srvs where added at this point. Basically we got space-legs, some changes to the UI (equipping ships is a pain now), 2 elite ranks and other stuff. Im pretty sure we see more content and fixes in the future, but thats a pretty poor show now - to say content and fixes will come when we just had a big release.
Some call this release a
beta release
- which unfortunately fits well. The console version of Odyssey isnt due for 6 months, where quality control is much higher. In 6 months time im sure Odyssey will be in a good place by then. So the title of beta fits, which is unfair to PC players.
All this has landed Odyssey with a Mostly Negative on Steam review page (with only 34% postive feedback);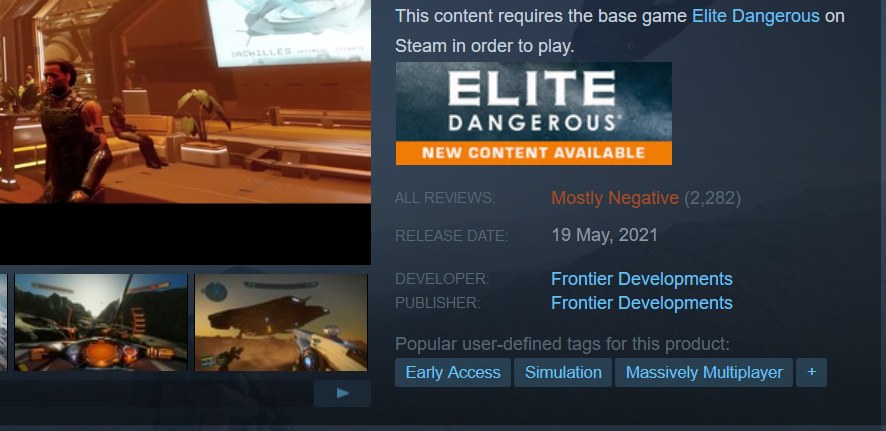 I really hope this spurs Frontier into action; to see a mostly negative on your new big shiny addon is pretty bad. However this isnt the first time ive seen this happen unfortunately - doesnt make it any more acceptable!
Older news