Asteroid information added to universe maps
Sunday 27th June, 2021 · Posted by Roguey ·

3 comments
I was contacted by an Egosoft forum member, asking me if I could add asteroid information to the universe map. I know when building a complex its important to find the right place. So today I started working on the feature. Things went fairly okay - and after a few hours I had something working.
After a little bit more work, I was able to update to all the other X-Sites. So now you can find asteroid information on X2, X3, X3TC, X3AP and X3FL maps now. I hope this helps,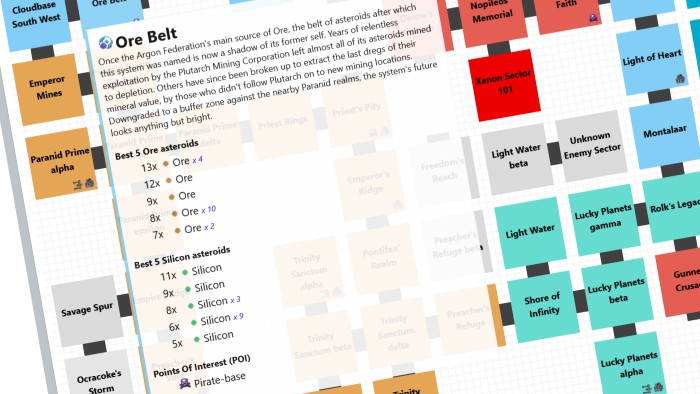 [Update] Sun strength has also been added now.
---
Updates to the X2, X3, X3TC and X3AP sites
Thursday 19th July, 2018 · Posted by Roguey ·

0 comments
Its awhile since ive done any updates to the X-sites (X2, X3, X3TC, X3AP), but just recently I had some extra time. A long time ago I started the process of converting how the X-sites get their data. In the past those sites relied on a database that I built up from various resources. This was time-consuming process and often lead to inconsistencies, due to how hard it was to create. So started the process of changing the x-sites to use in-game files. The X3TC and X3AP sites were changed over, but the X2 and X3 sites werent. Those two sites still relied on the old method, the database.

So just recently ive been working on X2 and X3 sites, making them use in-game files too. They both had their own challenges, X2 being very old and X3 require more sections (lasers, missiles, shields, wares, etc.). This should be completed now - so now the X2, X3, X3TC and X3AP sites all use in-game files now, but I have still some minor things to fix.

During the process however I noticed the universe maps werent showing correctly. The reason for this is that they used flash. Flash itself isnt supported that well by browsers nowadays. So I wanted to build a new map using standard HTML. This has been rolled out to X2, X3, X3TC and X3AP sites. The new map also shows sectors containing mines, pirate bases, equipment docks and shipyards, with a little icon at the bottom right of the sector box. The X2 and X3 sites use my newer design sector maps too.

I know the X2 and X3 sites arent heavily used areas any-more, but I wanted to update them. So now finally the database has been removed for all x-sites apart from X-Rebirth. I dont plan on re-working the X-Rebirth site, since this use in-game files to populate the database - a half-way solution, I know but still is a lot easier to update than building a database. There is still a few more sections id like to update - like my X3 mod area.


---
The X4 presentation
Saturday 26th August, 2017 · Posted by Roguey ·

12 comments
If you weren't able to visit the X4 presentation and/or missed the event when streamed, a fellow youtuber
Dna Corporation Network
has put a copy of the presentation on youtube for you to watch. The audio is a little low, so be careful when adjusting your speakers before/after. If you wish to check-out the video, have a peek below;
So what are your thoughts on it? are you happy? sad? confused, let me know!
[update] video updated.
---
Older news