News
Farnhams Legacy Plot guide online
Friday 30th July, 2021 · Posted by Roguey ·

0 comments
I know its been a while since the release of Farnhams Legacy, but in the background I have been working on my Farnhams Legacy Plot guide. Today I have finally finished the guide and put the guide online for all to see. Ive tried to go into detail and explain the plot, to make it some-what easier to understand (hopefully). Anyway, hope it helps. You can access the guied either in the help section, or by clicking the image below;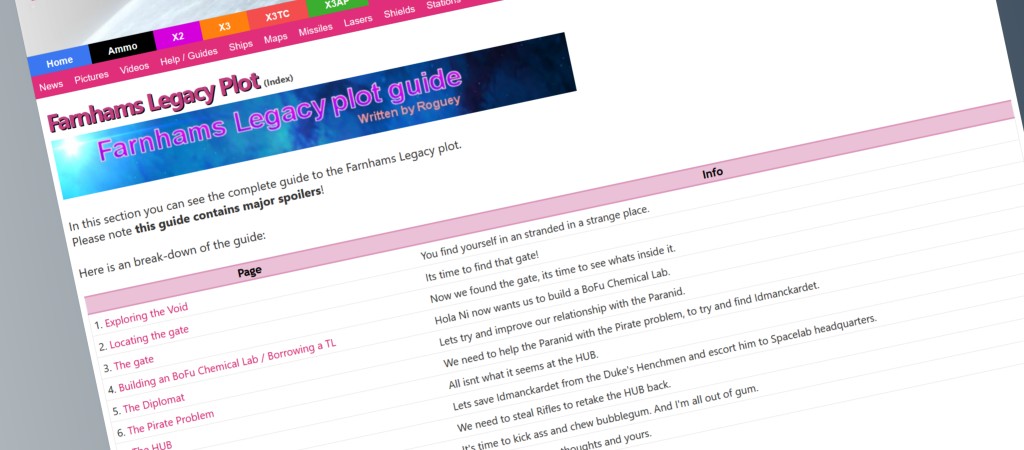 Asteroid information added to universe maps
Sunday 27th June, 2021 · Posted by Roguey ·

1 comments
I was contacted by an Egosoft forum member, asking me if I could add asteroid information to the universe map. I know when building a complex its important to find the right place. So today I started working on the feature. Things went fairly okay - and after a few hours I had something working.
After a little bit more work, I was able to update to all the other X-Sites. So now you can find asteroid information on X2, X3, X3TC, X3AP and X3FL maps now. I hope this helps,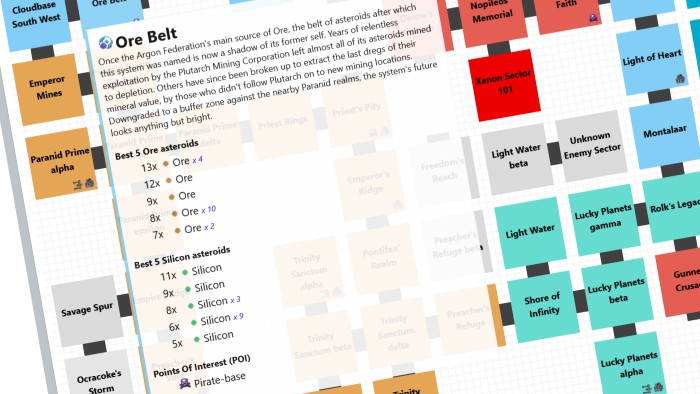 [Update] Sun strength has also been added now.
New Farnhams Legacy site online
Tuesday 4th May, 2021 · Posted by Roguey ·

6 comments
You may of heard Egosoft released Farnhams Legacy today. I hope release went well, and thanks to all those involved in the project. It is great seeing some more life breathe into the old X3 engine. Farnhams Legacy is free to all those with Albion Prelude, and was a community effort.
Shortly afterwards I started working on X3FL site to support the new release. You already seen me working on the colour scheme during the past few days; this time I went for a kind-of pink scheme seeing as we dont have one. It look a little longer than expected, due to some changes in the gamefiles (nameid for example). However the site should be mostly
working
now. So I hope a complete stats lists, maps, etc. helps you on your journey.
o7 commanders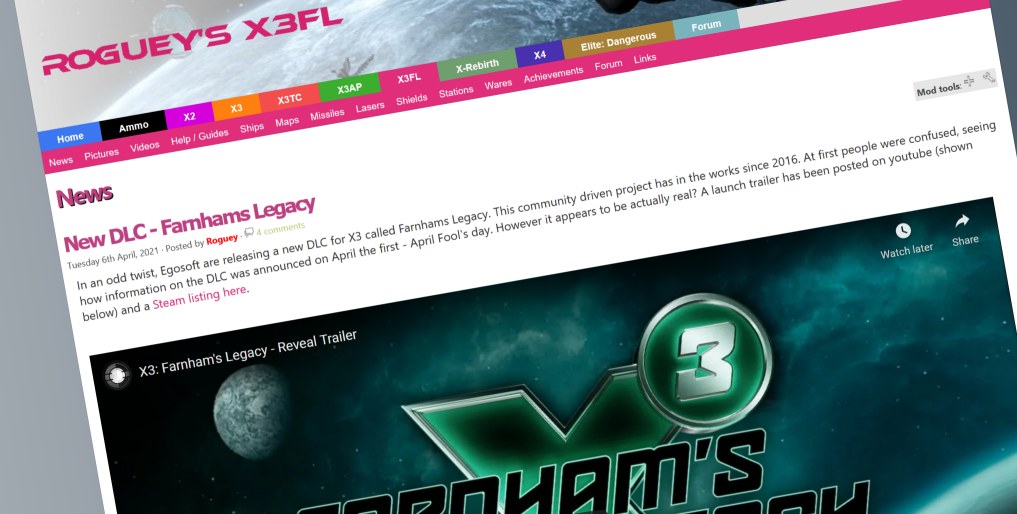 Older news