News
The X4 presentation
Saturday 26th August, 2017 · Posted by Roguey ·

12 comments ·
If you weren't able to visit the X4 presentation and/or missed the event when streamed, a fellow youtuber
Dna Corporation Network
has put a copy of the presentation on youtube for you to watch. The audio is a little low, so be careful when adjusting your speakers before/after. If you wish to check-out the video, have a peek below;
So what are your thoughts on it? are you happy? sad? confused, let me know!
[update] video updated.
A first look at X4 tomorrow
Friday 25th August, 2017 · Posted by Roguey ·

3 comments ·
Its been a long time since I've posted any news on the x-games. Tomorrow we are promised a first look at X4 - the true successor to X3TC/AP. The event will take place on Saturday, August 26th from 15:00 CEST (13:00 GMT/UTC, 14:00 BST) to 19:00 from Egosoft's HQ in Germany. If you cant make the event in person, then the event will be broadcast online via egosoft's new Twitch channel (
here
- I believe).
I do hope Egosoft have learnt from their previous experience and will make X4 the best it can be - I guess only time will tell.
So far I do not know anything more than you, so this will be a first look for me too. I had little contact with Egosoft during the past couple of years, since away. I will be very interested to hear from you guys, so post your thoughts/comments below. thanks,
Egosoft announce X4 is in development
Thursday 15th December, 2016 · Posted by Roguey ·

4 comments ·
Its been a long time since I have posted news on the x-games. Today
Egosoft
have announced that they are working on a new X game, entitled X4. This should be long-awaited successor to original x-games (such as X3/TC/AP). Quite a few players were disappointed when Egosoft decided to take the franchise into a new direction (such as myself).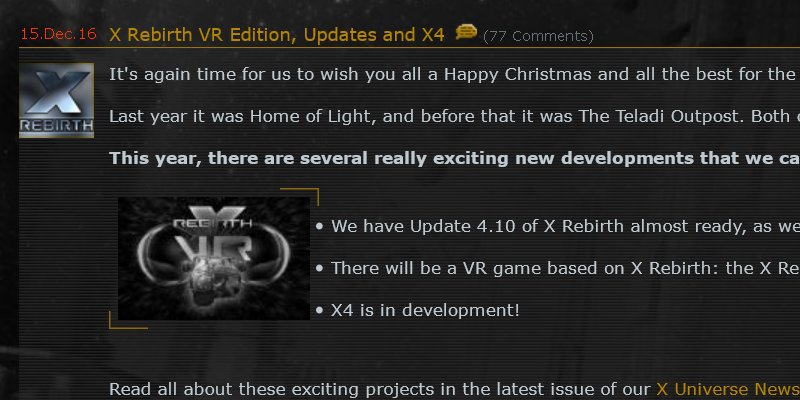 I am very interested to see what you guys think about this news. This is welcomed news? Have Egosoft burnt their bridges with X-Rebirth? or are you not even interested at all? This site was created based on the original x-games, so I felt it was important to inform you guys.
I can only speak on my behalf, but I felt that X-Rebirth did a lot of damage to x-community. I am also unsure how I would be perceived in the x-community since my withdrawal from the franchise. Maybe Egosoft are keen on getting the community back together? I know my site is just one of many sites out there, but at one stage you were telling me I was the community ambassador to the x-games. I really welcome your comments on this one, thanks.
Older news