Egosoft announce X4 is in development
Thursday 15th December, 2016 · Posted by Roguey ·

4 comments
Its been a long time since I have posted news on the x-games. Today
Egosoft
have announced that they are working on a new X game, entitled X4. This should be long-awaited successor to original x-games (such as X3/TC/AP). Quite a few players were disappointed when Egosoft decided to take the franchise into a new direction (such as myself).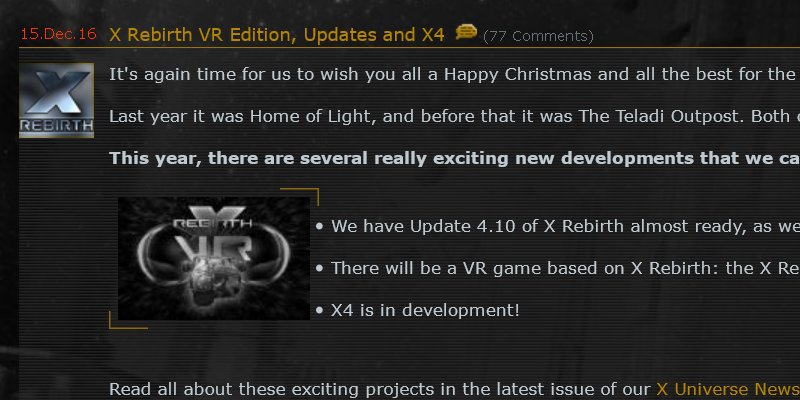 I am very interested to see what you guys think about this news. This is welcomed news? Have Egosoft burnt their bridges with X-Rebirth? or are you not even interested at all? This site was created based on the original x-games, so I felt it was important to inform you guys.
I can only speak on my behalf, but I felt that X-Rebirth did a lot of damage to x-community. I am also unsure how I would be perceived in the x-community since my withdrawal from the franchise. Maybe Egosoft are keen on getting the community back together? I know my site is just one of many sites out there, but at one stage you were telling me I was the community ambassador to the x-games. I really welcome your comments on this one, thanks.
Comments
| | |
| --- | --- |
| | To post comments you need to register and log-in. |