Elite Dangerous » Reaching a billionaire
I know its been awhile since my last Elite: Dangerous blog; back in September when I reached the combat rank of Elite. However its been relativity quiet in Elite for me. The reason is that ive been working on my trade-rank, which has you can imagine is a grind. For this ive been using one of two trade routes, either;
Bestii to LTT 8517
or
Karid to Orang
- both routes have their advantages and disadvantages (the Karid being faster but with less profit, whilst the Bestii run being slower but makes more profit). Sometimes its worth switching between the two because other players effect the runs (even in solo).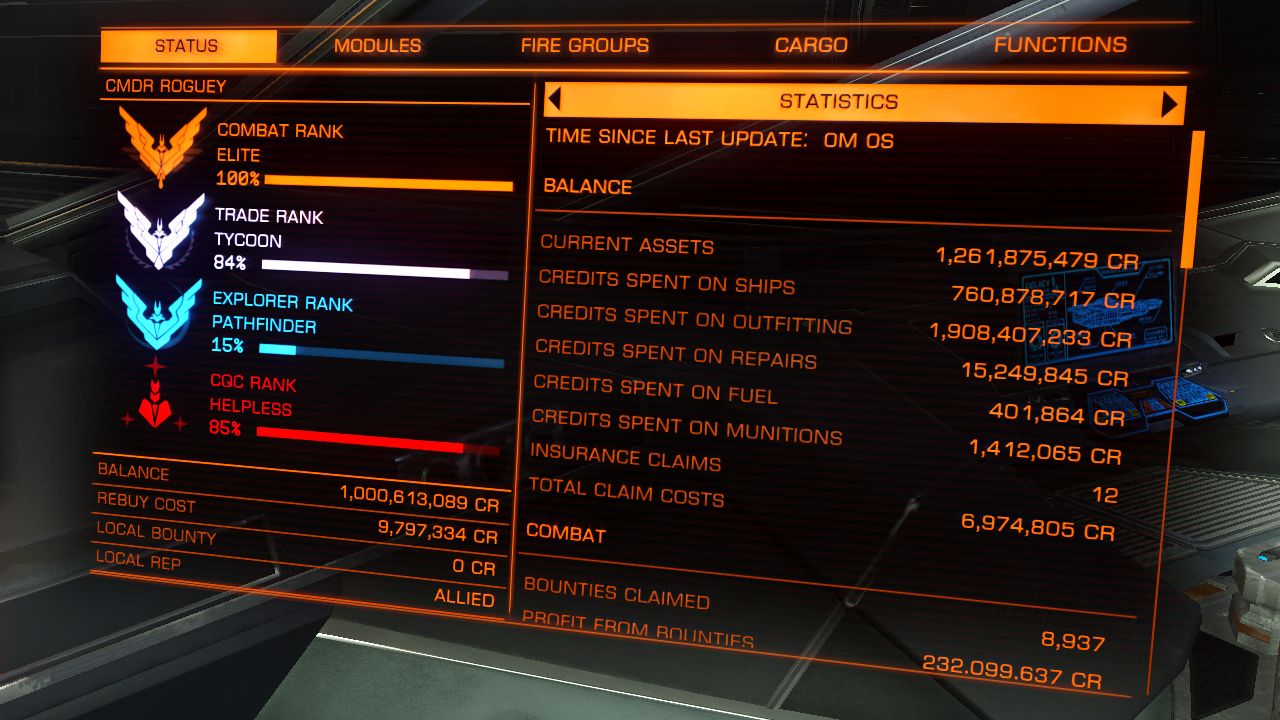 So today ive finally hit one billion in my bank account... in Elite: Dangerous - it would of been good in real life of-course. I guess technically ive been a billionaire for awhile, as my net assets are worth 1,261 million. Some of that is tied up in the ship I fly. Its not a full A-class Anaconda but its fairly well equipped, being worth around 265 million (
my anaconda build
).
This puts me at around 104 million away from the Elite trading rank too, so hopefully ill be posting about that soon. Ideally I wanted to do that before v1.5 or horizons, but I think its unlikely with v1.5 beta due out this Monday or Tuesday. Well, atleast I have broken the back of the trade rank now - I will be glad when its done! I think afterwards I might switch to either Mobius or open and play with some of the smaller ships, or play some more CQC (yay im helpless).
Posted by Roguey
on Sunday 8th November, 2015 ·

0 comments
·
Comments
| | |
| --- | --- |
| | To post comments you need to register and log-in. |