X3TC » My real boarding success
A while back I saved up the money for an M7M rather than a M7, because I wanted to try and board ships. I also wanted to know why M7M were so costly. Ive invested a lot of money into training my marines, with little return.
Today I got 20 marines ready after much training and thought ill have a go at a Boreas, seeing its a ship I really wanted. I didnt hold out much hope but figured ill have a go anyway.
So, I changed my race relationship to hostile to the Argons, then started to fire Hammer Heavy's at the ship - so to bring down the shield and make the ship go hostile. As soon as the ship went hostile, I used the jump-drive and moved the nearest gate. Seeing as I had a Split Cobra (which is faster than the Boreas), I turned the ship to face away and let it catch me up (to 8k/9m range) - so it couldnt fire but I could hit the ship from the front (where the main guns dont shoot out my missiles).
So after many missiles, the shields were down enough. Then the mad launch of my marines, followed by some extra missiles to hold the shields down. Soon after the marines got into the ship (all 20, most only having 3 stars).
Deck by deck, the marines cleared the ship. On one of the decks, one marine died - heck I was expecting a lot more. 19 of them reached the computer core. A few moments later, the ship was transferred to me! Just 1 marine dead - thankyou marines!
So I have a new main ship - albeit it needs repairing: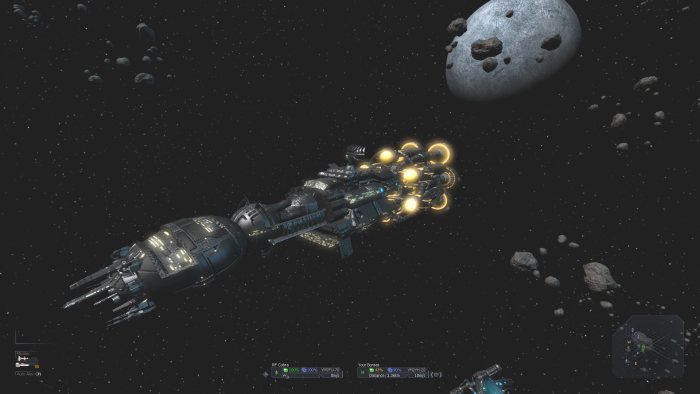 I hope this helps you with your boarding, good luck!
Posted by Roguey
on Thursday 28th July, 2011 ·

0 comments
·
Comments
| | |
| --- | --- |
| | To post comments you need to register and log-in. |