Bandwidth limit exceeded
Thursday 1st June, 2023 · Posted by Roguey ·

3 comments
As you may of seen; during last month we exceeded our bandwidth. So you may of been greeted with the message when vistiing the site;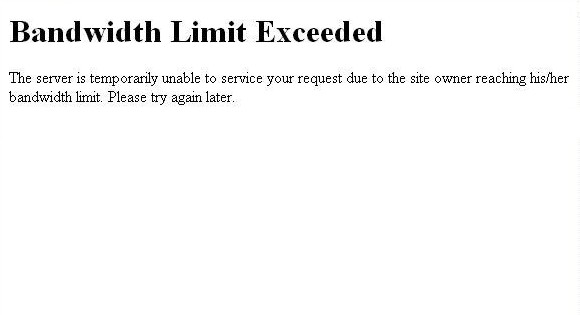 I was keeping an eye on the bandwidth usage at the start of the month - estimating the usage. It appeared we would exceeded the limit (for a second time - the first time the host gave us some extra bandwidth). On the 22nd (Monday) I contacted the hoster -
freewebhostingarea.com
to increase the package.
I was expecting it to be a simple process; pay some extra money and everything would be sorted - simple eh? well that was the idea. Instead of paying the difference (for a month or two, or the rest of the plan), they wanted to charge me nearly double for one month and move-on the renewal date (as they have different prices if you pay annually or monthly - ive always paid annually). I did ask them if I could simply pay the difference? In-which they never replied.
So without nothing being sorted for over a week, the site shutdown for a few days at the end of the month (as I expected).
Ive been with our current host for 17 years now, and very unhappy with how things played out. I will be looking at moving the site to a new host (not something I really wanted to do, but I cant stay here either). Of all the problems with website hitting the bandwidth limit is a good thing; it means the site is being used more and more, and we need more resources.
This may lead to something much better now but will take me time to sort out.
Sorry about the recent downtime guys,
[Update] We have now moved to a new host, for more information see:
here
.
Comments
| | |
| --- | --- |
| | To post comments you need to register and log-in. |