Split Pteranodon
(M2)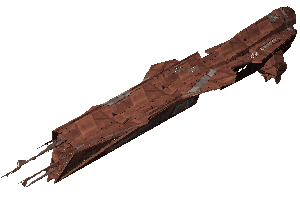 Using schematics that were acquired at the end of the last Split civil war, the Pteranodon was designed to be one of the most advanced ships ever made. This drew the attention of Patriarch Rhonkar who commissioned it for exclusive use as his flagship. However due to the increasingly hostile state of the galaxy these ships were put into production for use by the most trusted Split captains.


Summary
id
SS_SH_S_M2P
Price
57,251,900 credits

(33,333 notoriety points)

Acceleration
8.0 to 12.0

m/s

Engine speed
50 to 75.0

m/s (x5 engine tunings)

Turn speed
0.8 to 1.3

rpm (x5 rudder tunings)

Shields
5 x 2 GJ Shield (19 mins, 36 secs,

100% efficiency

)
Hull strength
5,000,000 points
Weapon energy
300,000

(+ 6,000.0J/sec)

Cargo-bay
8,500 - 8,500

(XL sized)

Hanger
16

ships

Production at HQ


49 hours, 38 mins, 22 secs.
Weapons
8 x Cockpit
Shield/min
Hull/min
Projectile speed
Life-time
Distance
Ion Shard Railgun
616,385
222,000
498

m/s

6.7

sec

3.3

km

Phased Array Laser Cannon
567,000
424,286
2,561

m/s

2.5

sec

6.4

km

Photon Pulse Cannon
2,793,197
496,642
333

m/s

19.9

sec

6.6

km

8 x Left turret
Shield/min
Hull/min
Projectile speed
Life-time
Distance
Particle Accelerator Cannon
362,827
44,921
703

m/s

2.7

sec

1.9

km

Ion Shard Railgun
616,385
222,000
498

m/s

6.7

sec

3.3

km

Phased Array Laser Cannon
567,000
424,286
2,561

m/s

2.5

sec

6.4

km

8 x Right turret
Shield/min
Hull/min
Projectile speed
Life-time
Distance
Particle Accelerator Cannon
362,827
44,921
703

m/s

2.7

sec

1.9

km

Ion Shard Railgun
616,385
222,000
498

m/s

6.7

sec

3.3

km

Phased Array Laser Cannon
567,000
424,286
2,561

m/s

2.5

sec

6.4

km

4 x Rear turret
Shield/min
Hull/min
Projectile speed
Life-time
Distance
Particle Accelerator Cannon
362,827
44,921
703

m/s

2.7

sec

1.9

km

Ion Shard Railgun
616,385
222,000
498

m/s

6.7

sec

3.3

km

Phased Array Laser Cannon
567,000
424,286
2,561

m/s

2.5

sec

6.4

km
Missiles
Available missiles
Group
Damage
Projectile speed
Life-time
Distance
Mosquito Missile
Counter
200
700.0

m/s

20.1

secs

14.1

km

Wasp Missile
Light
1,000

x8

560.0

m/s

32.4

secs

18.1

km

Silkworm Missile
Light
19,000
228.0

m/s

123.0

secs

28.0

km

Disruptor Missile
Light
6,000
620.0

m/s

64.4

secs

39.9

km

Hurricane Missile
Light
6,000
560.0

m/s

51.9

secs

29.1

km

Remote Guided Warhead
Light
100,000
170.0

m/s

465.0

secs

79.1

km

Wildfire Missile
Light
15,000
295.0

m/s

112.0

secs

33.0

km

Thunderbolt Missile
Medium
75,000
235.0

m/s

333.0

secs

78.3

km

Tempest Missile
Medium
60,000
235.0

m/s

264.0

secs

62.0

km

Cyclone Missile
Medium
23,000
175.0

m/s

338.0

secs

59.2

km

Tornado Missile
Medium
50,000

x8

312.0

m/s

80.0

secs

25.0

km

Beluga Missile
Medium
100,000
255.0

m/s

350.0

secs

89.3

km

Hammerhead Missile
Medium
1,250,000
205.0

m/s

401.0

secs

82.2

km

Windstalker Missile
Medium
30,000
220.0

m/s

101.0

secs

22.2

km

Banshee Missile
Medium
74,000
185.0

m/s

87.0

secs

16.1

km

Hornet Missile
Heavy
200,000
225.0

m/s

138.0

secs

31.1

km

Typhoon Missile
Heavy
30,000

x8

195.0

m/s

384.0

secs

74.9

km

Firestorm Torpedo
Heavy
1,000,000
198.0

m/s

501.0

secs

99.2

km
Comments
| | |
| --- | --- |
| | To post comments you need to register and log-in. |