Bozo's Blog #4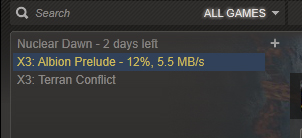 I thought would write a quick blog whilst I am d'loading the new X3

I will be adding screen shots to my forum page for them, so you lot can see what it is like. If you have any think you want me to take a look at feel free to ask on a forum page.

I am looking forward to playing AB, just hoping my system can handle it.
Something that really annoys me is the fact that I have a 50mb/s fiber optic broadband and I am just cracking 5.5mb/s d'load and it had a peak of 6.1mb/s.
Currently I am on 48% and it is only just making 4.8mb/s big drop.... so I am annoyed. I suppose a lot of people d'load from the Steam servers.
There is manual available online... I will see if i can get the link the you can see it

Posted by bozo64r
on Friday 16th December, 2011 ·

1 comments
·
Comments
| | |
| --- | --- |
| | To post comments you need to register and log-in. |