Teladi Toucan
(TP)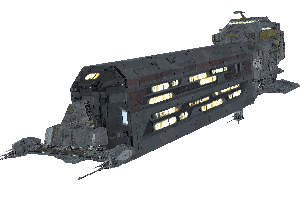 The Toucan is a mid-range luxury passenger transport craft. Equipped with the necessary entertainment facilities to keep its passengers comfortable in its journey, from computerised gambling to up to the date visual entertainment, all in the confines of a luxury seat. The ship itself can be armed, but lacks speed; it is known that this ship is the slowest of its class.


Summary
Price
272,950 credits

(33 notoriety points)

Engine speed
50 to 125.0

m/s (x15 engine tunings)

Turn speed
1.8 to 4.5

rpm (x15 rudder tunings)

Shields
3 x 25 MJ Shield (3 mins, 5 secs,

60% efficiency

)
Hull strength
72,000 points
Weapon energy
450

(+ 4.5J/sec)

Cargo-bay
900 - 900

(L sized)

Where to buy
Production at HQ


1 hour, 10 mins, 59 secs.
Weapons
Missiles

1 x Rear turret


Counter


Mosquito Missile


Dmbf

Heavy



Khaak



Light



Medium



Special commonwealth



Special terran

Comments
| | |
| --- | --- |
| | To post comments you need to register and log-in. |