Split Chimera
(M3)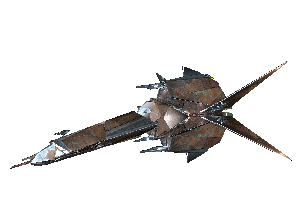 The Split Chimera was developed by Bala Gi Research Inc. following a successful tender to produce a ship that gave better long-range performance over the Mamba. Split defence experts view the Chimera as a logical step to delivering a heavy fighter with enhanced load-carrying capability and endurance.


Summary
id
SS_SH_S_M3P
Price
3,350,000 credits

(1,000 notoriety points)

Acceleration
15.8 to 39.5

m/s

Engine speed
73 to 182.0

m/s (x15 engine tunings)

Turn speed
15.1 to 37.7

rpm (x15 rudder tunings)

Shields
3 x 25 MJ Shield (1 mins, 51 secs,

100% efficiency

)
Hull strength
20,000 points
Weapon energy
8,750

(+ 218.7J/sec)

Cargo-bay
140 - 300

(L sized)

Where to buy
Production at HQ


4 hours, 21 mins, 25 secs.
Weapons
8 x Cockpit
Shield/min
Hull/min
Projectile speed
Life-time
Distance
Impulse Ray Emitter
88,000
8,400
1,162

m/s

1.2

sec

1.4

km

Particle Accelerator Cannon
362,827
44,921
703

m/s

2.7

sec

1.9

km

Mass Driver
0
33,333
739

m/s

1.4

sec

1.0

km

Energy Bolt Chaingun
535,658
85,658
604

m/s

4.7

sec

2.8

km

Fragmentation Bomb Launcher
528,644
89,148
359

m/s

5.5

sec

2.0

km

High Energy Plasma Thrower
564,623
93,962
431

m/s

5.4

sec

2.3

km

Pulsed Beam Emitter
1,090,385
40,385
6,980

m/s

0.1

sec

1.0

km

1 x Rear turret
Shield/min
Hull/min
Projectile speed
Life-time
Distance
Impulse Ray Emitter
88,000
8,400
1,162

m/s

1.2

sec

1.4

km

Particle Accelerator Cannon
362,827
44,921
703

m/s

2.7

sec

1.9

km

Mass Driver
0
33,333
739

m/s

1.4

sec

1.0

km

Pulsed Beam Emitter
1,090,385
40,385
6,980

m/s

0.1

sec

1.0

km

1 x Front turret
Shield/min
Hull/min
Projectile speed
Life-time
Distance
Impulse Ray Emitter
88,000
8,400
1,162

m/s

1.2

sec

1.4

km

Particle Accelerator Cannon
362,827
44,921
703

m/s

2.7

sec

1.9

km

Mass Driver
0
33,333
739

m/s

1.4

sec

1.0

km

Pulsed Beam Emitter
1,090,385
40,385
6,980

m/s

0.1

sec

1.0

km
Missiles
Available missiles
Group
Damage
Projectile speed
Life-time
Distance
Mosquito Missile
Counter
200
700.0

m/s

20.1

secs

14.1

km

Wasp Missile
Light
1,000

x8

560.0

m/s

32.4

secs

18.1

km

Silkworm Missile
Light
19,000
228.0

m/s

123.0

secs

28.0

km

Disruptor Missile
Light
6,000
620.0

m/s

64.4

secs

39.9

km

Hurricane Missile
Light
6,000
560.0

m/s

51.9

secs

29.1

km

Remote Guided Warhead
Light
100,000
170.0

m/s

465.0

secs

79.1

km

Wildfire Missile
Light
15,000
295.0

m/s

112.0

secs

33.0

km

Thunderbolt Missile
Medium
75,000
235.0

m/s

333.0

secs

78.3

km

Tempest Missile
Medium
60,000
235.0

m/s

264.0

secs

62.0

km

Cyclone Missile
Medium
23,000
175.0

m/s

338.0

secs

59.2

km

Tornado Missile
Medium
50,000

x8

312.0

m/s

80.0

secs

25.0

km

Beluga Missile
Medium
100,000
255.0

m/s

350.0

secs

89.3

km

Hammerhead Missile
Medium
1,250,000
205.0

m/s

401.0

secs

82.2

km

Windstalker Missile
Medium
30,000
220.0

m/s

101.0

secs

22.2

km

Banshee Missile
Medium
74,000
185.0

m/s

87.0

secs

16.1

km

Dragonfly Missile
Dmbf
5,000
300.0

m/s

62.5

secs

18.8

km

Firefly Missile
Dmbf
1,500
690.0

m/s

24.0

secs

16.6

km

Aurora Missile
Dmbf
8,000
700.0

m/s

25.8

secs

18.1

km

Rapier Missile
Dmbf
1,000
780.0

m/s

49.0

secs

38.2

km

Firelance Missile
Dmbf
4,500
600.0

m/s

30.5

secs

18.3

km
Comments
| | |
| --- | --- |
| | To post comments you need to register and log-in. |