Pirate Nova
(M3)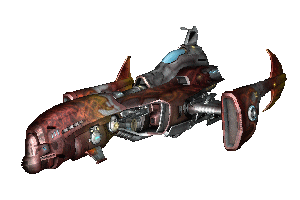 When the long serving Argon Elite was originally retired, the Argon military was left without an M3 fighter, that was until a group of Shipwrights in Omicron Lyrae put forward plans for a new type of ship. The Nova was born shortly afterwards, and after two years of testing, virtually all of the older Elite class ship had been replaced by this new craft. Capable of holding powerful weaponry and armed with an aft turret, the Nova is bound to serve the Argon military for many years to come.


Summary
id
SS_SH_A_M3_P_2
Hull strength
10,000 points
Shields
3 x 25 MJ Shield (2 mins, 6 secs,

88% efficiency

)
Acceleration
8.0 to 19.9

m/s

Engine speed
39 to 97.0

m/s (x15 engine tunings)

Turn speed
15.4 to 38.6

rpm (x15 rudder tunings)

Weapon energy
3,700

(+ 92.5J/sec)

Cargo-bay
86 - 236

(L)

Price
992,350 credits

(333 notoriety points)

Production at HQ


1 hour, 17 mins, 26 secs.
Weapons
8 x Cockpit
Hull/min
Shield/min
Speed
Life-time
Distance
Impulse Ray Emitter
8,400
88,000
1,162

m/s

1.2

sec

1.4

km

Particle Accelerator Cannon
44,921
362,827
703

m/s

2.7

sec

1.9

km

Mass Driver
11,111
0
739

m/s

1.4

sec

1.0

km

Phased Repeater Gun
45,957
434,043
1,560

m/s

1.5

sec

2.3

km

Energy Bolt Chaingun
85,658
535,658
604

m/s

4.7

sec

2.8

km

High Energy Plasma Thrower
93,962
564,623
431

m/s

5.4

sec

2.3

km

Plasma Burst Generator
6,575
25,644
375

m/s

2.1

sec

0.8

km

1 x Rear turret
Hull/min
Shield/min
Speed
Life-time
Distance
Impulse Ray Emitter
8,400
88,000
1,162

m/s

1.2

sec

1.4

km

Particle Accelerator Cannon
44,921
362,827
703

m/s

2.7

sec

1.9

km

Mass Driver
11,111
0
739

m/s

1.4

sec

1.0

km

Phased Repeater Gun
45,957
434,043
1,560

m/s

1.5

sec

2.3

km

Fragmentation Bomb Launcher
89,148
528,644
359

m/s

5.5

sec

2.0

km
Missiles
Damage
Radius
Speed
Life-time
Distance
Wasp Missile
1,000

x8

2.4

m

560.0

m/s

32.4

secs

18.1

km

Silkworm Missile
19,000
20

m

190.0

m/s

149.6

secs

28.4

km

Disruptor Missile
6,000
-
514.8

m/s

77.7

secs

40.0

km

Hurricane Missile
6,000
200

m

471.3

m/s

63.7

secs

30.0

km

Remote Guided Warhead
100,000
100

m

142.7

m/s

560.4

secs

80.0

km

Wildfire Missile
15,000
20

m

246.6

m/s

135.2

secs

33.3

km

Thunderbolt Missile
75,000
20

m

195.0

m/s

400.0

secs

78.0

km

Tempest Missile
60,000
20

m

195.0

m/s

320.0

secs

62.4

km

Cyclone Missile
23,000
20

m

148.9

m/s

403.0

secs

60.0

km

Tornado Missile
50,000

x8

40

m

312.5

m/s

80.0

secs

25.0

km

Beluga Missile
100,000
40

m

211.6

m/s

425.3

secs

90.0

km

Hammerhead Missile
1,250,000
1.2

km

172.0

m/s

500.0

secs

86.0

km

Windstalker Missile
30,000
40

m

179.1

m/s

124.1

secs

22.2

km

Banshee Missile
74,000
100

m

153.1

m/s

96.7

secs

14.8

km

Mosquito Missile
200
-
590.0

m/s

24.9

secs

14.7

km

Dragonfly Missile
5,000
20

m

250.0

m/s

75.0

secs

18.8

km

Firefly Missile
1,500
4

m

576.0

m/s

43.4

secs

25.0

km

Aurora Missile
8,000
200

m

589.0

m/s

31.8

secs

18.7

km

Rapier Missile
1,000
8

m

657.5

m/s

152.1

secs

100.0

km

Firelance Missile
4,500
150

m

500.1

m/s

100.0

secs

50.0

km
Comments
| | |
| --- | --- |
| | To post comments you need to register and log-in. |