Argon Mammoth
(TL)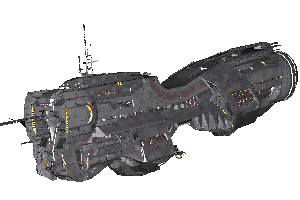 The Argon Mammoth is a Heavy Transporter ship, usually found in Argon Federation territory. It is so large that it cannot dock at any space station, instead it is loaded and unloaded by docking some distance from the station, having its freight ferried backwards and forwards by fleets of smaller transporters. These ships are owned by successful private entrepreneur pilots who have made a great investment in order to purchase them - therefore they are more than keen to hire out their services.


Summary
Price
17,557,250 credits

(1,000 notoriety points)

Engine speed
58 to 87.6

m/s (x5 engine tunings)

Turn speed
1.5 to 2.3

rpm (x5 rudder tunings)

Shields
5 x 200 MJ Shield (5 mins, 37 secs,

44% efficiency

)
Hull strength
150,000 points
Weapon energy
17,100

(+ 170.9J/sec)

Cargo-bay
60,000 - 60,000

(ST sized)

Hanger
5

ships

Where to buy
Production at HQ


15 hours, 13 mins, 22 secs.
Weapons
Missiles

2 x Front turret

2 x Right turret

2 x Rear turret

2 x Left turret


Dmbf

Heavy



Khaak



Light

Medium

Special commonwealth



Special terran

Comments
| | |
| --- | --- |
| | To post comments you need to register and log-in. |