Split Iguana
(TP)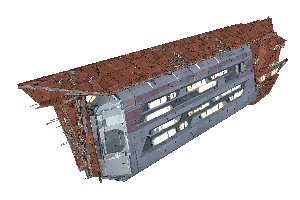 This fast transport ship has been in service for many years now. The ship was originally built for slave transport, to ferry slaves from their point of capture to the factories where they would spend the rest of their days. Now the ship is used to transport personnel from sector to sector. It is armed with adequate weaponry, but its main defence is speed.


Summary
id
SS_SH_S_TP
Hull strength
16,000 points
Shields
2 x 25 MJ Shield (1 mins, 51 secs,

100% efficiency

)
Acceleration
6.2 to 11.7

m/s

Engine speed
90 to 170.1

m/s (x9 engine tunings)

Turn speed
3.3 to 6.3

rpm (x9 rudder tunings)

Weapon energy
1,150

(+ 11.5J/sec)

Cargo-bay
450 - 450

(L)

Price
202,500 credits

(33 notoriety points)

Where to buy
Production at HQ


52 mins, 40 secs.
Weapons
4 x Cockpit
Hull/min
Shield/min
Speed
Life-time
Distance
Impulse Ray Emitter
8,400
88,000
1,162

m/s

1.2

sec

1.4

km

Particle Accelerator Cannon
44,921
362,827
703

m/s

2.7

sec

1.9

km

Fragmentation Bomb Launcher
89,148
528,644
359

m/s

5.5

sec

2.0

km

1 x Rear turret
Hull/min
Shield/min
Speed
Life-time
Distance
Impulse Ray Emitter
8,400
88,000
1,162

m/s

1.2

sec

1.4

km

Particle Accelerator Cannon
44,921
362,827
703

m/s

2.7

sec

1.9

km

Fragmentation Bomb Launcher
89,148
528,644
359

m/s

5.5

sec

2.0

km

Ion Disruptor
634
199,789
2,027

m/s

0.5

sec

0.9

km
Missiles
Comments
| | |
| --- | --- |
| | To post comments you need to register and log-in. |