Current blog's
(Page 16 of 16)
---

New section - My blogs
Posted by
Roguey
on
22 Jan, 2011

2 comments
A new section is up and running called
Blogs
. In this section you can post your own news such as things which have happened to you. Once you gain access to the blog section, you will be given you own folder, in my case /blogs/roguey/
Hopefully its all working, comment system is installed on the blogs too. ...
» Read more
---

CNC » Latest Vortex Updates
Posted by
TheWhiteTiger
on
22 Jan, 2011

0 comments
The team of the
vortex mod
has just posted some new screen shots and models, featuring the mod's latest units and structures such as, the brand new Nod sam site, Nod Scorpion MBT, Nod Devil's Tounge and more. Have a look.
[center]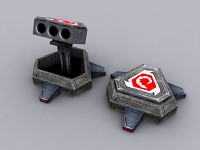 ...
» Read more