Current blog's
(Page 2 of 16)
---

New architecture or not..
Posted by
Roguey
on
1 Jul, 2016

7 comments
During the past couple of months ive been following both nvidia and AMD new GPU architecture (Pascal/Polaris). Ive been running a 4k setup since Christmas and my single 980ti was struggling (often seeing 30-40fps). So I wanted to improve on that.
The first of the two - Pascal came out just over a month ago. I was excited at first - as I thought the new architecture should be a huge leap forward. We been stuck on a 28nm manufacturing process for long time - which has made some gpu's get pretty big (and costly to make). So with nvidia ...
» Read more
---

I can Bailey believe it - update on Overclockers
Posted by
Roguey
on
22 Apr, 2016

0 comments
During the past week or two, you may I read about the troubles I had with my Zotac 980Ti AMP, if not seen it, look
here
– no need to repost. At the end of the situation I felt I had to take matters into my own hands, which I knew might void the warranty - something I didn't want to do (but felt I had little choice). So I left a pretty bad review for Overclockers.co.uk, thinking that was that.
After doing so, James Bailey (the Returns Manager) contacted me and wanted to sort the problem out – he ...
» Read more
---

Stay away from Zotac cards
Posted by
Roguey
on
9 Apr, 2016

2 comments
Awhile back, you may have seen that I brought a new
Zotac 980 Ti Amp
. Before purchasing the card I did a lot of research to work out which one I should buy. In the end it came down to price and 5 year warranty. I wish I would of picked another brand now.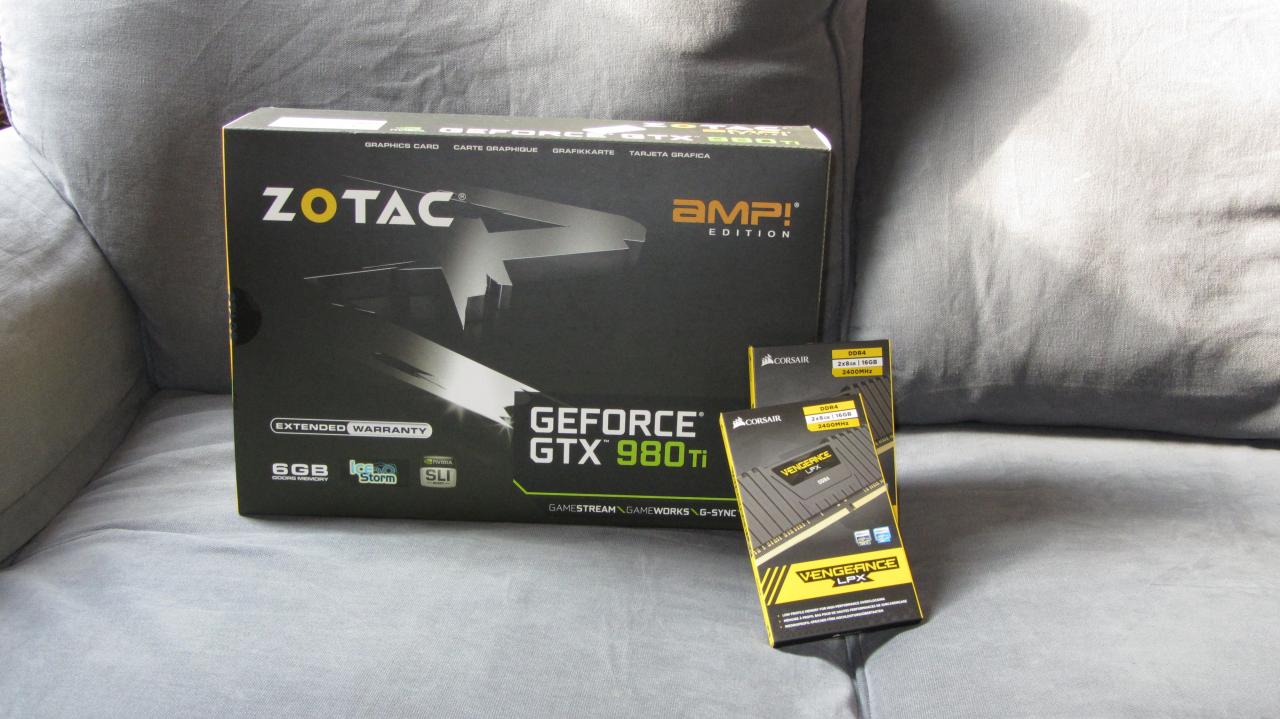 Before Christmas, I had the card running at 1080p. 1080p doesnt put much stress on the card, as 60fps isnt hard for a card of this power. For a Christmas present I got a 4k screen, which meant increasing the resolution to 4k. This is when I noticed some big ...
» Read more
---

something new
Posted by
Scott
on
13 Feb, 2016

0 comments
Hi you know me as scott, been playing xgames for awhile. Got tired and been here lot about this game. Steam had it on sale for like 20.00 and well as a cheap guy i finally got it. Took a few tries to figure it out. La d was the hardest but finally got it down i think. Any how I finally started to figure somethings out. Ut please offer any tips sugestion etc yawl feel I can use, which is any. I flying a fed dropship, before thag a asp exore cobra 3 viper ...
» Read more
---

Elite Dangerous » Reaching a billionaire
Posted by
Roguey
on
8 Nov, 2015

0 comments
I know its been awhile since my last Elite: Dangerous blog; back in September when I reached the combat rank of Elite. However its been relativity quiet in Elite for me. The reason is that ive been working on my trade-rank, which has you can imagine is a grind. For this ive been using one of two trade routes, either;
Bestii to LTT 8517
or
Karid to Orang
- both routes have their ...
» Read more
---

Reinforcements have arrived
Posted by
Roguey
on
27 Oct, 2015

0 comments
Awhile back you may of read that I upgraded my PC from an 2600k to an 5820k. I looked seriously at the 6700k, but for me having 2 real extra cores was better (4x 4.2 vs 6x 3.6ghz). I dont know how things will go with gaming etc. but from past experience the extra cores tend to get used later on (and I do some encoding work from time to time). I also thought my 5820k will overclock (if need be), and ive reached 3.8ghz with 1.0v - I know thats not much of an overclock but I tend to want to keep the noise level low (1.0v is stock voltage). Higher ...
» Read more
---

Upgrading to an 5820k
Posted by
Roguey
on
30 Sep, 2015

0 comments
A little bit ago, a family member made a decision that they wanted to use a PC for next gen games instead of going down the console path (I think it was the right decision). This was influenced because their copy of Windows 7 couldnt be upgraded on their current pc (AMD X2 3800+), as the cpu didnt support CMPXCHG16B. So I did some research and found out that the cheapest I could put something together was around £400 mark (motherboard, cpu and ram). When comparing the stats to my 2600k (which is 4 years old), I saw only a 7% difference in ...
» Read more
---

Elite Dangerous » An Elite Roguey
Posted by
Roguey
on
1 Sep, 2015

0 comments
Its been nearly 2 months since my promotion to Deadly in Elite: Dangerous. When I got Deadly, I moved my focus onto trading - as it felt like it would be a long journey and I was only at the start of it. Every so often I did a bit combat - pushing up my progress by a couple of percentage every now and then.
However in the past week or so, my turned my focus back onto fighting. I knew there be a bank holiday, so I would have some more time to push on with the rank.
Progress was slow at first, getting around 5% progress a day until I ...
» Read more