Current blog's
(Page 3 of 16)
---

Swapping cases
Posted by
Roguey
on
18 Aug, 2015

0 comments
A week or so ago I was looking through my pictures of my PC - sometimes I find it nice to see how its changed over the years. However, I noticed that I had the same case for well over 12 years now. The Thermaltake Xaser III V2000A had been a good case, housing 3 or 4 different PC's including my current one - a 2600k. Below is a picture from 2003, however I dont know how long I had it before.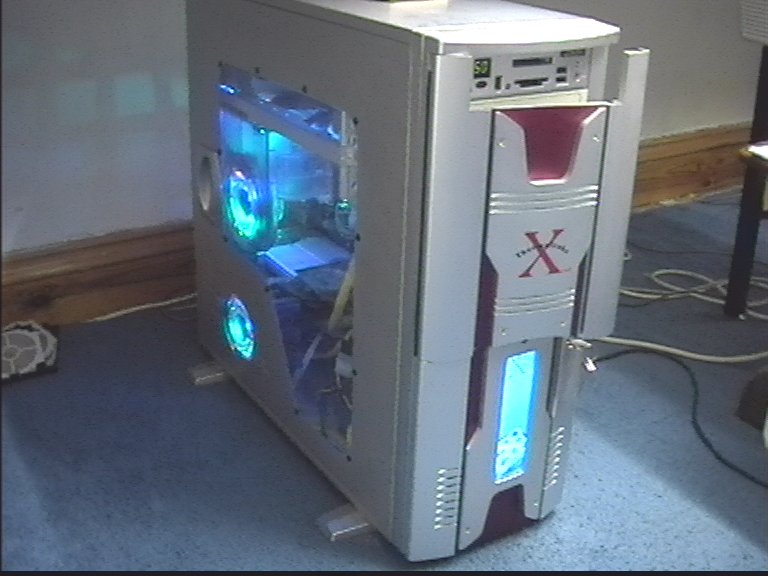 Inside the case was a AMD 3000+, 2x256Mb DDR1 and Winfast A250 Ultra TD GeForce4 Ti 4600. This was the first time I ...
» Read more
---

Upgrading the memory of a Acer E15
Posted by
Roguey
on
26 Jul, 2015

0 comments
A week or so ago, I got a Acer E15. Everything seemed good apart from one thing for me - 4Gb of ram. I know 4Gb of ram isnt exactly low but for a system that uses the main memory for GPU memory too I thought it needed more (Windows/GPU probably want around a gigabyte each, not leaving much afterwards). I also noticed that the memory was running in single-channel, so just one 4Gb module (so there was speed bonuses too).
Usually the process of increasing an laptop's memory is a fairly easy process - simply remove the underside flaps and ...
» Read more
---

Elite Dangerous » A sneaky Tycoon
Posted by
Roguey
on
10 Jul, 2015

0 comments
For the past few days ive been working on my trade rank, seeing it was the 85%+ area. Trading isnt the most fun thing to do, but it brings in money which is always a good thing in Elite: Dangerous. Earlier, I knew I was getting close - as it said I was at 99%. However when I logged back in, I saw this;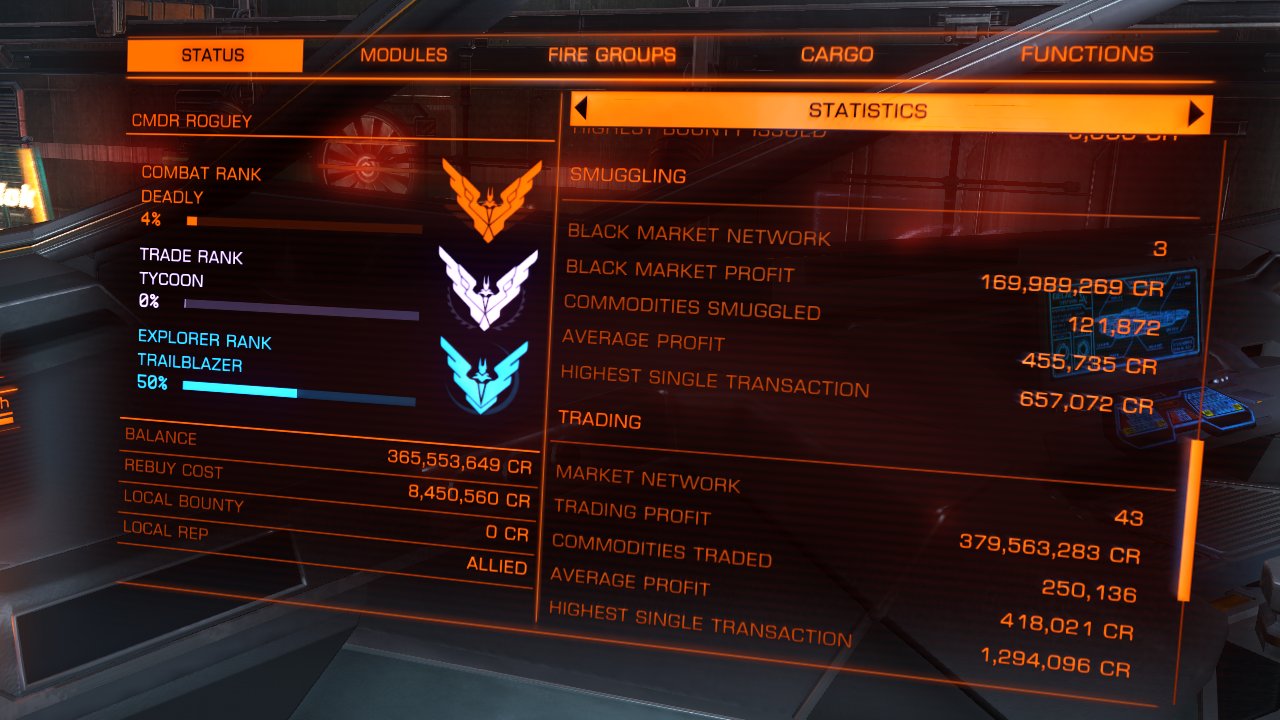 I was thinking that you needed 384/385 million profit, so I was expecting to do a few more runs to be honest.
Anyway, now begins the long road to Elite for two ranks - combat and trade. As you can see I made a ...
» Read more
---

Elite Dangerous » A deadly Roguey
Posted by
Roguey
on
4 Jul, 2015

0 comments
Its been just under a month now since my last blog, when I reached the combat rating of
Dangerous
. I was so sick of seeing
Master
, as all I could think about was
I am a master-blaster
(as someone kept saying it to me). So I was so glad to get the Dangerous title. I carried on doing kills (probably 75% to 25% - trading, you still make a lot of money from trading).
Today, I have just reached
Deadly
! So now just one more title before coming
Elite
. I know this one will take some time, but atleast each percent ...
» Read more
---

Elite Dangerous » Dangerous title
Posted by
Roguey
on
12 Jun, 2015

1 comments
Its been a long time since my last blog post on Elite: Dangerous. A lot has changed since - just recently Elite: Dangerous was updated to include powers. However v1.3 hasnt gone with fair share of problems too (some still needing fixing).
On and off ive been working on the combat rank - trying to progress. I got so fed up seeing
Master
- which felt
lacking
. Today - finally I managed to reach
Dangerous
.
I know there are commanders out there who have already reached Elite, but im just sharing my progress. I would like ...
» Read more
---

hello everyone
Posted by
Vijay Singh
on
9 May, 2015

1 comments
hello
everyone
...
» Read more
---

MSi RMA process
Posted by
Roguey
on
27 Apr, 2015

3 comments
In my last blog you may of read that my old MSi 670GTX OC (N670GTX-PM2D2GD5/OC) failed. After some testing I couldnt get the card to work properly again (Windows reported an error 43, and had switched to vgasafe). I also noticed some corruption in the pictures (looking like the graphic-card memory had failed).
So I started to read around, it looked like MSi did offer 3 year warranties on some cards but I wasnt sure if mine was covered. I checked all over the box and the included paper-work, but nothing about the warranty period. I ...
» Read more
---

Elite Dangerous » Elite killed my 670 GTX
Posted by
Roguey
on
13 Apr, 2015

5 comments
Probably the first thing you thought when reading the blog title was - is this some spam random post? I wish it was the case.. but my Nvidia 670 GTX has now gone on its last journey after just 2 and half years;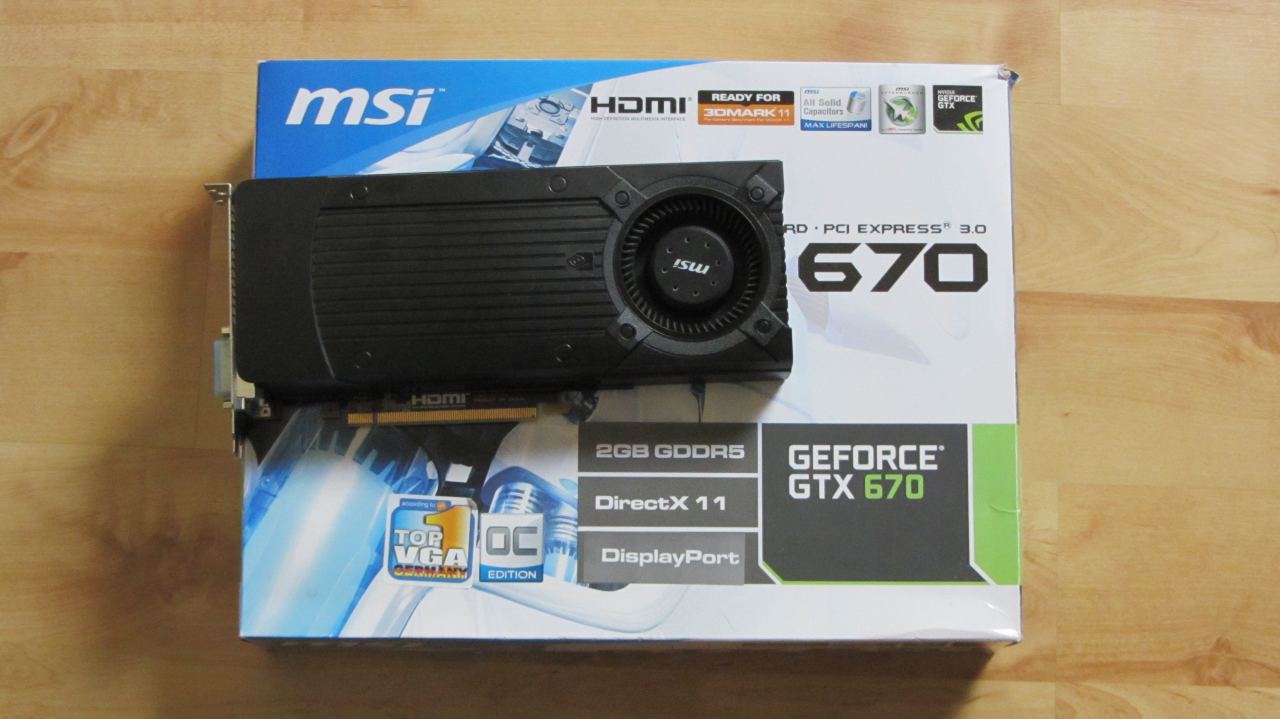 I havnt been playing Elite for a few days as ive been working on the site, or playing on the PS3. I just recently wrote some code to save the best deals back into the database. So, today I thought ill check a run that the site worked out between
Deneb Algedi
to
V374 Pegasi
- it looked ...
» Read more