Teladi Albatross
(TL)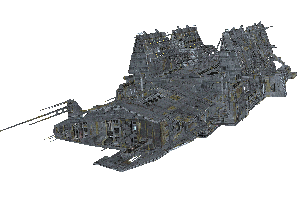 This huge transporter is too large for any space station and carries its own fleet of smaller transporter ships which load and unload its cargo. It is one of the best shielded large transporter ships, a testimony to the Teladi trait of preferring to last long enough until help arrives. Its basic design and technology is a hybrid between an older version of the Argon Mammoth and the Paranid Hercules.


Summary
id
SS_SH_T_TL
Price
16,793,850 credits

(1,000 notoriety points)

Acceleration
3.1 to 4.7

m/s

Engine speed
59 to 88.1

m/s (x5 engine tunings)

Turn speed
0.3 to 0.5

rpm (x5 rudder tunings)

Shields
6 x 200 MJ Shield (6 mins, 57 secs,

36% efficiency

)
Hull strength
180,000 points
Weapon energy
17,100

(+ 170.9J/sec)

Cargo-bay
43,000 - 43,000

(ST sized)

Hanger
7

ships

Where to buy
Production at HQ


14 hours, 33 mins, 39 secs.
Weapons
2 x Front turret
Shield/min
Hull/min
Projectile speed
Life-time
Distance
Impulse Ray Emitter
88,000
8,400
1,162

m/s

1.2

sec

1.4

km

Particle Accelerator Cannon
362,827
44,921
703

m/s

2.7

sec

1.9

km

Phased Repeater Gun
434,043
45,957
1,560

m/s

1.5

sec

2.3

km

Energy Bolt Chaingun
535,658
85,658
604

m/s

4.7

sec

2.8

km

Concussion Impulse Generator
588,375
196,125
420

m/s

8.3

sec

3.5

km

Ion Shard Railgun
616,385
222,000
498

m/s

6.7

sec

3.3

km

Flak Artillery Array
770,000
116,278
7,051

m/s

0.3

sec

2.1

km

Incendiary Bomb Launcher
2,774,182
490,909
312

m/s

16.5

sec

5.1

km

Mobile Drilling System
7,086
19,500
84

m/s

57.5

sec

4.8

km

Tractor Beam
0
0
4,000

m/s

0.5

sec

2.0

km

Repair Laser
0
6,000
4,400

m/s

0.5

sec

2.2

km

2 x Right turret
Shield/min
Hull/min
Projectile speed
Life-time
Distance
Impulse Ray Emitter
88,000
8,400
1,162

m/s

1.2

sec

1.4

km

Particle Accelerator Cannon
362,827
44,921
703

m/s

2.7

sec

1.9

km

Phased Repeater Gun
434,043
45,957
1,560

m/s

1.5

sec

2.3

km

Energy Bolt Chaingun
535,658
85,658
604

m/s

4.7

sec

2.8

km

Fragmentation Bomb Launcher
528,644
89,148
359

m/s

5.5

sec

2.0

km

High Energy Plasma Thrower
564,623
93,962
431

m/s

5.4

sec

2.3

km

Pulsed Beam Emitter
1,090,385
40,385
6,980

m/s

0.1

sec

1.0

km

Concussion Impulse Generator
588,375
196,125
420

m/s

8.3

sec

3.5

km

Flak Artillery Array
770,000
116,278
7,051

m/s

0.3

sec

2.1

km

Incendiary Bomb Launcher
2,774,182
490,909
312

m/s

16.5

sec

5.1

km

2 x Rear turret
Shield/min
Hull/min
Projectile speed
Life-time
Distance
Energy Bolt Chaingun
535,658
85,658
604

m/s

4.7

sec

2.8

km

Concussion Impulse Generator
588,375
196,125
420

m/s

8.3

sec

3.5

km

Ion Pulse Generator
785,188
32,688
347

m/s

11.2

sec

3.9

km

Ion Shard Railgun
616,385
222,000
498

m/s

6.7

sec

3.3

km

Flak Artillery Array
770,000
116,278
7,051

m/s

0.3

sec

2.1

km

Mobile Drilling System
7,086
19,500
84

m/s

57.5

sec

4.8

km

Tractor Beam
0
0
4,000

m/s

0.5

sec

2.0

km

Repair Laser
0
6,000
4,400

m/s

0.5

sec

2.2

km

2 x Left turret
Shield/min
Hull/min
Projectile speed
Life-time
Distance
Impulse Ray Emitter
88,000
8,400
1,162

m/s

1.2

sec

1.4

km

Particle Accelerator Cannon
362,827
44,921
703

m/s

2.7

sec

1.9

km

Phased Repeater Gun
434,043
45,957
1,560

m/s

1.5

sec

2.3

km

Energy Bolt Chaingun
535,658
85,658
604

m/s

4.7

sec

2.8

km

Fragmentation Bomb Launcher
528,644
89,148
359

m/s

5.5

sec

2.0

km

High Energy Plasma Thrower
564,623
93,962
431

m/s

5.4

sec

2.3

km

Pulsed Beam Emitter
1,090,385
40,385
6,980

m/s

0.1

sec

1.0

km

Concussion Impulse Generator
588,375
196,125
420

m/s

8.3

sec

3.5

km

Flak Artillery Array
770,000
116,278
7,051

m/s

0.3

sec

2.1

km

Incendiary Bomb Launcher
2,774,182
490,909
312

m/s

16.5

sec

5.1

km
Missiles
Available missiles
Group
Damage
Projectile speed
Life-time
Distance
Wasp Missile
Light
1,000

x8

560.0

m/s

32.4

secs

18.1

km

Silkworm Missile
Light
19,000
190.0

m/s

149.6

secs

28.4

km

Disruptor Missile
Light
6,000
514.8

m/s

77.7

secs

40.0

km

Hurricane Missile
Light
6,000
471.3

m/s

63.7

secs

30.0

km

Remote Guided Warhead
Light
100,000
142.7

m/s

560.4

secs

80.0

km

Wildfire Missile
Light
15,000
246.6

m/s

135.2

secs

33.3

km

Mosquito Missile
Dmbf
200
590.0

m/s

24.9

secs

14.7

km

Dragonfly Missile
Dmbf
5,000
250.0

m/s

75.0

secs

18.8

km

Firefly Missile
Dmbf
1,500
576.0

m/s

43.4

secs

25.0

km

Aurora Missile
Dmbf
8,000
589.0

m/s

31.8

secs

18.7

km

Rapier Missile
Dmbf
1,000
657.5

m/s

152.1

secs

100.0

km

Firelance Missile
Dmbf
4,500
500.1

m/s

100.0

secs

50.0

km
Comments
| | |
| --- | --- |
| | To post comments you need to register and log-in. |