Teladi Condor
(M1)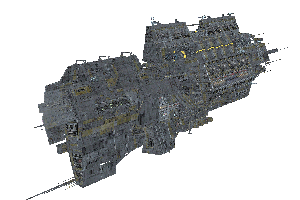 The Condor is the carrier ship of the Teladi Company Space Fleet. It is a powerful battleship based upon technology supplied by the Split combined with that of the older Argon Prime VI. Rarely seen outside Teladi sectors the ship is slow but heavily armed and shielded compared to the carriers of other races, its Captains preferring to last longer than others in a battle while still avoiding to get into trouble in the first place.


Summary
id
SS_SH_T_M1
Price
41,984,700 credits

(33,333 notoriety points)

Acceleration
3.2 to 4.5

m/s

Engine speed
46 to 64.5

m/s (x4 engine tunings)

Turn speed
0.3 to 0.5

rpm (x4 rudder tunings)

Shields
4 x 2 GJ Shield (20 mins, 38 secs,

95% efficiency

)
Hull strength
480,000 points
Weapon energy
53,200

(+ 797.9J/sec)

Cargo-bay
12,000 - 12,000

(XL sized)

Hanger
35

ships

Where to buy
Production at HQ


36 hours, 24 mins, 8 secs.
Weapons
4 x Front turret
Shield/min
Hull/min
Projectile speed
Life-time
Distance
Particle Accelerator Cannon
362,827
44,921
703

m/s

2.7

sec

1.9

km

Phased Repeater Gun
434,043
45,957
1,560

m/s

1.5

sec

2.3

km

Energy Bolt Chaingun
535,658
85,658
604

m/s

4.7

sec

2.8

km

Fragmentation Bomb Launcher
528,644
89,148
359

m/s

5.5

sec

2.0

km

High Energy Plasma Thrower
564,623
93,962
431

m/s

5.4

sec

2.3

km

Pulsed Beam Emitter
1,090,385
40,385
6,980

m/s

0.1

sec

1.0

km

Concussion Impulse Generator
588,375
196,125
420

m/s

8.3

sec

3.5

km

Ion Pulse Generator
785,188
32,688
347

m/s

11.2

sec

3.9

km

Ion Shard Railgun
616,385
222,000
498

m/s

6.7

sec

3.3

km

Flak Artillery Array
770,000
116,278
7,051

m/s

0.3

sec

2.1

km

Mobile Drilling System
7,086
19,500
84

m/s

57.5

sec

4.8

km

Tractor Beam
0
0
4,000

m/s

0.5

sec

2.0

km

Repair Laser
0
6,000
4,400

m/s

0.5

sec

2.2

km

4 x Right turret
Shield/min
Hull/min
Projectile speed
Life-time
Distance
High Energy Plasma Thrower
564,623
93,962
431

m/s

5.4

sec

2.3

km

Pulsed Beam Emitter
1,090,385
40,385
6,980

m/s

0.1

sec

1.0

km

Concussion Impulse Generator
588,375
196,125
420

m/s

8.3

sec

3.5

km

Ion Pulse Generator
785,188
32,688
347

m/s

11.2

sec

3.9

km

Ion Shard Railgun
616,385
222,000
498

m/s

6.7

sec

3.3

km

Flak Artillery Array
770,000
116,278
7,051

m/s

0.3

sec

2.1

km

Cluster Flak Array
724,985
108,185
2,200

m/s

0.9

sec

2.0

km

Phased Shockwave Generator
151,787
8,061
254

m/s

5.7

sec

1.4

km

Photon Pulse Cannon
2,793,197
496,642
333

m/s

19.9

sec

6.6

km

Gauss Cannon
2,533,136
1,076,627
353

m/s

13.6

sec

4.8

km

Incendiary Bomb Launcher
2,774,182
490,909
312

m/s

16.5

sec

5.1

km

4 x Rear turret
Shield/min
Hull/min
Projectile speed
Life-time
Distance
Particle Accelerator Cannon
362,827
44,921
703

m/s

2.7

sec

1.9

km

Energy Bolt Chaingun
535,658
85,658
604

m/s

4.7

sec

2.8

km

Fragmentation Bomb Launcher
528,644
89,148
359

m/s

5.5

sec

2.0

km

High Energy Plasma Thrower
564,623
93,962
431

m/s

5.4

sec

2.3

km

Pulsed Beam Emitter
1,090,385
40,385
6,980

m/s

0.1

sec

1.0

km

Concussion Impulse Generator
588,375
196,125
420

m/s

8.3

sec

3.5

km

Ion Pulse Generator
785,188
32,688
347

m/s

11.2

sec

3.9

km

Ion Shard Railgun
616,385
222,000
498

m/s

6.7

sec

3.3

km

Flak Artillery Array
770,000
116,278
7,051

m/s

0.3

sec

2.1

km

Photon Pulse Cannon
2,793,197
496,642
333

m/s

19.9

sec

6.6

km

Mobile Drilling System
7,086
19,500
84

m/s

57.5

sec

4.8

km

Tractor Beam
0
0
4,000

m/s

0.5

sec

2.0

km

Repair Laser
0
6,000
4,400

m/s

0.5

sec

2.2

km

4 x Left turret
Shield/min
Hull/min
Projectile speed
Life-time
Distance
High Energy Plasma Thrower
564,623
93,962
431

m/s

5.4

sec

2.3

km

Pulsed Beam Emitter
1,090,385
40,385
6,980

m/s

0.1

sec

1.0

km

Concussion Impulse Generator
588,375
196,125
420

m/s

8.3

sec

3.5

km

Ion Pulse Generator
785,188
32,688
347

m/s

11.2

sec

3.9

km

Ion Shard Railgun
616,385
222,000
498

m/s

6.7

sec

3.3

km

Flak Artillery Array
770,000
116,278
7,051

m/s

0.3

sec

2.1

km

Cluster Flak Array
724,985
108,185
2,200

m/s

0.9

sec

2.0

km

Phased Shockwave Generator
151,787
8,061
254

m/s

5.7

sec

1.4

km

Photon Pulse Cannon
2,793,197
496,642
333

m/s

19.9

sec

6.6

km

Gauss Cannon
2,533,136
1,076,627
353

m/s

13.6

sec

4.8

km

Incendiary Bomb Launcher
2,774,182
490,909
312

m/s

16.5

sec

5.1

km

2 x Top turret
Shield/min
Hull/min
Projectile speed
Life-time
Distance
Particle Accelerator Cannon
362,827
44,921
703

m/s

2.7

sec

1.9

km

Phased Repeater Gun
434,043
45,957
1,560

m/s

1.5

sec

2.3

km

Energy Bolt Chaingun
535,658
85,658
604

m/s

4.7

sec

2.8

km

Fragmentation Bomb Launcher
528,644
89,148
359

m/s

5.5

sec

2.0

km

High Energy Plasma Thrower
564,623
93,962
431

m/s

5.4

sec

2.3

km

Pulsed Beam Emitter
1,090,385
40,385
6,980

m/s

0.1

sec

1.0

km

Concussion Impulse Generator
588,375
196,125
420

m/s

8.3

sec

3.5

km

Ion Pulse Generator
785,188
32,688
347

m/s

11.2

sec

3.9

km

Ion Shard Railgun
616,385
222,000
498

m/s

6.7

sec

3.3

km

Flak Artillery Array
770,000
116,278
7,051

m/s

0.3

sec

2.1

km

2 x Bottom turret
Shield/min
Hull/min
Projectile speed
Life-time
Distance
Particle Accelerator Cannon
362,827
44,921
703

m/s

2.7

sec

1.9

km

Phased Repeater Gun
434,043
45,957
1,560

m/s

1.5

sec

2.3

km

Energy Bolt Chaingun
535,658
85,658
604

m/s

4.7

sec

2.8

km

Fragmentation Bomb Launcher
528,644
89,148
359

m/s

5.5

sec

2.0

km

High Energy Plasma Thrower
564,623
93,962
431

m/s

5.4

sec

2.3

km

Pulsed Beam Emitter
1,090,385
40,385
6,980

m/s

0.1

sec

1.0

km

Concussion Impulse Generator
588,375
196,125
420

m/s

8.3

sec

3.5

km

Ion Pulse Generator
785,188
32,688
347

m/s

11.2

sec

3.9

km

Ion Shard Railgun
616,385
222,000
498

m/s

6.7

sec

3.3

km

Flak Artillery Array
770,000
116,278
7,051

m/s

0.3

sec

2.1

km
Missiles
Available missiles
Group
Damage
Projectile speed
Life-time
Distance
Wasp Missile
Light
1,000

x8

560.0

m/s

32.4

secs

18.1

km

Silkworm Missile
Light
19,000
190.0

m/s

149.6

secs

28.4

km

Disruptor Missile
Light
6,000
514.8

m/s

77.7

secs

40.0

km

Hurricane Missile
Light
6,000
471.3

m/s

63.7

secs

30.0

km

Remote Guided Warhead
Light
100,000
142.7

m/s

560.4

secs

80.0

km

Wildfire Missile
Light
15,000
246.6

m/s

135.2

secs

33.3

km

Thunderbolt Missile
Medium
75,000
195.0

m/s

400.0

secs

78.0

km

Tempest Missile
Medium
60,000
195.0

m/s

320.0

secs

62.4

km

Cyclone Missile
Medium
23,000
148.9

m/s

403.0

secs

60.0

km

Tornado Missile
Medium
50,000

x8

312.5

m/s

80.0

secs

25.0

km

Beluga Missile
Medium
100,000
211.6

m/s

425.3

secs

90.0

km

Hammerhead Missile
Medium
1,250,000
172.0

m/s

500.0

secs

86.0

km

Windstalker Missile
Medium
30,000
179.1

m/s

124.1

secs

22.2

km

Banshee Missile
Medium
74,000
153.1

m/s

96.7

secs

14.8

km

Hornet Missile
Heavy
200,000
186.0

m/s

167.9

secs

31.2

km

Typhoon Missile
Heavy
30,000

x8

195.0

m/s

384.0

secs

74.9

km

Firestorm Torpedo
Heavy
1,000,000
165.0

m/s

600.0

secs

99.0

km

Mosquito Missile
Dmbf
200
590.0

m/s

24.9

secs

14.7

km

Dragonfly Missile
Dmbf
5,000
250.0

m/s

75.0

secs

18.8

km

Firefly Missile
Dmbf
1,500
576.0

m/s

43.4

secs

25.0

km

Aurora Missile
Dmbf
8,000
589.0

m/s

31.8

secs

18.7

km

Rapier Missile
Dmbf
1,000
657.5

m/s

152.1

secs

100.0

km

Firelance Missile
Dmbf
4,500
500.1

m/s

100.0

secs

50.0

km
Comments
| | |
| --- | --- |
| | To post comments you need to register and log-in. |