Argon Mammoth
(TL)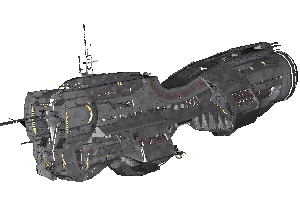 The Argon Mammoth is a Heavy Transporter ship, usually found in Argon Federation territory. It is so large that it cannot dock at any space station, instead it is loaded and unloaded by docking some distance from the station, having its freight ferried backwards and forwards by fleets of smaller transporters. These ships are owned by successful private entrepreneur pilots who have made a great investment in order to purchase them - therefore they are more than keen to hire out their services.


Summary
id
SS_SH_A_TL
Price
17,732,722 credits

(1,000 notoriety points)

Acceleration
2.7 to 4.0

m/s

Engine speed
58 to 87.6

m/s (x5 engine tunings)

Turn speed
1.5 to 2.3

rpm (x5 rudder tunings)

Shields
5 x 200 MJ Shield (5 mins, 37 secs,

44% efficiency

)
Hull strength
1,500,000 points
Weapon energy
17,100

(+ 170.9J/sec)

Max marines
20 marines
Boarding difficulty

Hull strength: 130
Internal defence: 30
Hacking: 40 - 60
5 decks
Max shield: 6%

Hanger
5

ships

Cargo-bay
60,000 - 60,000

(ST sized)

Where to buy
Production at HQ


3 hours, 47 mins, 58 secs.
Weapons
2 x Front turret
Shield/min
Hull/min
Projectile speed
Life-time
Distance
Impulse Ray Emitter
88,000
8,400
1,162

m/s

1.2

sec

1.4

km

Particle Accelerator Cannon
362,827
44,921
703

m/s

2.7

sec

1.9

km

Phased Repeater Gun
434,043
45,957
1,560

m/s

1.5

sec

2.3

km

Energy Bolt Chaingun
535,658
85,658
604

m/s

4.7

sec

2.8

km

High Energy Plasma Thrower
564,623
93,962
431

m/s

5.4

sec

2.3

km

Concussion Impulse Generator
588,375
196,125
420

m/s

8.3

sec

3.5

km

Ion Pulse Generator
785,188
32,688
347

m/s

11.2

sec

3.9

km

Incendiary Bomb Launcher
2,774,182
490,909
312

m/s

16.5

sec

5.1

km

Mobile Drilling System
7,086
19,500
84

m/s

57.5

sec

4.8

km

Tractor Beam
0
0
4,000

m/s

0.5

sec

2.0

km

2 x Right turret
Shield/min
Hull/min
Projectile speed
Life-time
Distance
Impulse Ray Emitter
88,000
8,400
1,162

m/s

1.2

sec

1.4

km

Particle Accelerator Cannon
362,827
44,921
703

m/s

2.7

sec

1.9

km

Phased Repeater Gun
434,043
45,957
1,560

m/s

1.5

sec

2.3

km

Energy Bolt Chaingun
535,658
85,658
604

m/s

4.7

sec

2.8

km

High Energy Plasma Thrower
564,623
93,962
431

m/s

5.4

sec

2.3

km

Concussion Impulse Generator
588,375
196,125
420

m/s

8.3

sec

3.5

km

Flak Artillery Array
770,000
116,278
7,051

m/s

0.3

sec

2.1

km

Cluster Flak Array
724,985
108,185
2,200

m/s

0.9

sec

2.0

km

Incendiary Bomb Launcher
2,774,182
490,909
312

m/s

16.5

sec

5.1

km

Plasma Beam Cannon
1,428,000
650,000
10,644

m/s

0.6

sec

5.9

km

Mobile Drilling System
7,086
19,500
84

m/s

57.5

sec

4.8

km

Tractor Beam
0
0
4,000

m/s

0.5

sec

2.0

km

2 x Rear turret
Shield/min
Hull/min
Projectile speed
Life-time
Distance
Impulse Ray Emitter
88,000
8,400
1,162

m/s

1.2

sec

1.4

km

Particle Accelerator Cannon
362,827
44,921
703

m/s

2.7

sec

1.9

km

Mass Driver
0
33,333
739

m/s

1.4

sec

1.0

km

Phased Repeater Gun
434,043
45,957
1,560

m/s

1.5

sec

2.3

km

Energy Bolt Chaingun
535,658
85,658
604

m/s

4.7

sec

2.8

km

High Energy Plasma Thrower
564,623
93,962
431

m/s

5.4

sec

2.3

km

Ion Disruptor
199,789
634
2,027

m/s

0.5

sec

0.9

km

Mobile Drilling System
7,086
19,500
84

m/s

57.5

sec

4.8

km

Tractor Beam
0
0
4,000

m/s

0.5

sec

2.0

km

2 x Left turret
Shield/min
Hull/min
Projectile speed
Life-time
Distance
Impulse Ray Emitter
88,000
8,400
1,162

m/s

1.2

sec

1.4

km

Particle Accelerator Cannon
362,827
44,921
703

m/s

2.7

sec

1.9

km

Phased Repeater Gun
434,043
45,957
1,560

m/s

1.5

sec

2.3

km

Energy Bolt Chaingun
535,658
85,658
604

m/s

4.7

sec

2.8

km

High Energy Plasma Thrower
564,623
93,962
431

m/s

5.4

sec

2.3

km

Concussion Impulse Generator
588,375
196,125
420

m/s

8.3

sec

3.5

km

Flak Artillery Array
770,000
116,278
7,051

m/s

0.3

sec

2.1

km

Cluster Flak Array
724,985
108,185
2,200

m/s

0.9

sec

2.0

km

Incendiary Bomb Launcher
2,774,182
490,909
312

m/s

16.5

sec

5.1

km

Plasma Beam Cannon
1,428,000
650,000
10,644

m/s

0.6

sec

5.9

km

Mobile Drilling System
7,086
19,500
84

m/s

57.5

sec

4.8

km

Tractor Beam
0
0
4,000

m/s

0.5

sec

2.0

km
Missiles
Available missiles
Group
Damage
Projectile speed
Life-time
Distance
Mosquito Missile
Counter
200
700.0

m/s

20.1

secs

14.1

km

Wasp Missile
Light
1,000

x8

560.0

m/s

32.4

secs

18.1

km

Silkworm Missile
Light
19,000
228.0

m/s

123.0

secs

28.0

km

Hurricane Missile
Light
6,000
560.0

m/s

51.9

secs

29.1

km

Remote Guided Warhead
Light
100,000
170.0

m/s

465.0

secs

79.1

km

Firelance Missile
Light
4,500
600.0

m/s

30.5

secs

18.3

km

Wildfire Missile
Light
15,000
295.0

m/s

112.0

secs

33.0

km

Thunderbolt Missile
Medium
75,000
235.0

m/s

333.0

secs

78.3

km

Tempest Missile
Medium
60,000
235.0

m/s

264.0

secs

62.0

km

Cyclone Missile
Medium
23,000
175.0

m/s

338.0

secs

59.2

km

Tornado Missile
Medium
50,000

x8

312.0

m/s

80.0

secs

25.0

km

Windstalker Missile
Medium
30,000
220.0

m/s

101.0

secs

22.2

km

Banshee Missile
Medium
74,000
185.0

m/s

87.0

secs

16.1

km

Dragonfly Missile
Dmbf
5,000
300.0

m/s

62.5

secs

18.8

km

Firefly Missile
Dmbf
1,500
690.0

m/s

24.0

secs

16.6

km

Aurora Missile
Dmbf
8,000
700.0

m/s

25.8

secs

18.1

km

Rapier Missile
Dmbf
1,000
780.0

m/s

49.0

secs

38.2

km
Comments
| | |
| --- | --- |
| | To post comments you need to register and log-in. |