Terran Kogarasu Maru Hauler
(M6)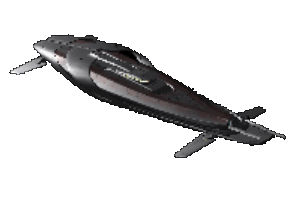 Not much is known about this ship. Its design resembles that of Terran ships, but materials suggest Argon ship building techniques. It is rumoured by some to have been used by Terran spies in commonwealth space. Others believe that it was commissioned by a wealthy entrepreneur to show off their status. Whatever the truth of the matter, it is an impressive ship in all respects, and rivalled by none.


Summary
id
SS_SH_FLAGSHIP
Price
25,754,854 credits

(100,000 notoriety points)

Acceleration
7.5 to 18.8

m/s

Engine speed
70 to 175.5

m/s (x15 engine tunings)

Turn speed
4.6 to 12.9

rpm (x18 rudder tunings)

Shields
5 x 200 MJ Shield (6 mins, 10 secs,

40% efficiency

)
Hull strength
350,000 points
Weapon energy
30,000

(+ 2,520.0J/sec)

Max marines
12 marines
Boarding difficulty

Hull strength: 60
Internal defence: 60
Hacking: 40 - 80
3 decks
Max shield: 10%

Hanger
1

ships

Cargo-bay
1,500 - 3,400

(XL sized)

Production at HQ


5 hours, 31 mins, 6 secs.
Weapons
8 x Cockpit
Shield/min
Hull/min
Projectile speed
Life-time
Distance
Impulse Ray Emitter
88,000
8,400
1,162

m/s

1.2

sec

1.4

km

Particle Accelerator Cannon
362,827
44,921
703

m/s

2.7

sec

1.9

km

Phased Repeater Gun
434,043
45,957
1,560

m/s

1.5

sec

2.3

km

Energy Bolt Chaingun
535,658
85,658
604

m/s

4.7

sec

2.8

km

Fragmentation Bomb Launcher
528,644
89,148
359

m/s

5.5

sec

2.0

km

High Energy Plasma Thrower
564,623
93,962
431

m/s

5.4

sec

2.3

km

Ion Disruptor
199,789
634
2,027

m/s

0.5

sec

0.9

km

Pulsed Beam Emitter
1,090,385
40,385
6,980

m/s

0.1

sec

1.0

km

Plasma Burst Generator
19,233
4,384
355

m/s

1.8

sec

0.6

km

Electro-Magnetic Plasma Cannon
314,136
125,654
588

m/s

3.4

sec

2.0

km

Concussion Impulse Generator
588,375
196,125
420

m/s

8.3

sec

3.5

km

Ion Pulse Generator
785,188
32,688
347

m/s

11.2

sec

3.9

km

Ion Shard Railgun
616,385
222,000
498

m/s

6.7

sec

3.3

km

Matter/Anti-Matter Launcher
601,441
222,929
445

m/s

8.2

sec

3.6

km

Mobile Drilling System
7,086
19,500
84

m/s

57.5

sec

4.8

km

Tractor Beam
0
0
4,000

m/s

0.5

sec

2.0

km

2 x Rear turret
Shield/min
Hull/min
Projectile speed
Life-time
Distance
Impulse Ray Emitter
88,000
8,400
1,162

m/s

1.2

sec

1.4

km

Particle Accelerator Cannon
362,827
44,921
703

m/s

2.7

sec

1.9

km

Mass Driver
0
33,333
739

m/s

1.4

sec

1.0

km

Phased Repeater Gun
434,043
45,957
1,560

m/s

1.5

sec

2.3

km

Energy Bolt Chaingun
535,658
85,658
604

m/s

4.7

sec

2.8

km

Fragmentation Bomb Launcher
528,644
89,148
359

m/s

5.5

sec

2.0

km

High Energy Plasma Thrower
564,623
93,962
431

m/s

5.4

sec

2.3

km

Ion Disruptor
199,789
634
2,027

m/s

0.5

sec

0.9

km

Plasma Burst Generator
19,233
4,384
355

m/s

1.8

sec

0.6

km

Electro-Magnetic Plasma Cannon
314,136
125,654
588

m/s

3.4

sec

2.0

km

Concussion Impulse Generator
588,375
196,125
420

m/s

8.3

sec

3.5

km

Ion Pulse Generator
785,188
32,688
347

m/s

11.2

sec

3.9

km

Ion Shard Railgun
616,385
222,000
498

m/s

6.7

sec

3.3

km

Matter/Anti-Matter Launcher
601,441
222,929
445

m/s

8.2

sec

3.6

km

2 x Rear turret
Shield/min
Hull/min
Projectile speed
Life-time
Distance
Impulse Ray Emitter
88,000
8,400
1,162

m/s

1.2

sec

1.4

km

Particle Accelerator Cannon
362,827
44,921
703

m/s

2.7

sec

1.9

km

Mass Driver
0
33,333
739

m/s

1.4

sec

1.0

km

Phased Repeater Gun
434,043
45,957
1,560

m/s

1.5

sec

2.3

km

Energy Bolt Chaingun
535,658
85,658
604

m/s

4.7

sec

2.8

km

Fragmentation Bomb Launcher
528,644
89,148
359

m/s

5.5

sec

2.0

km

High Energy Plasma Thrower
564,623
93,962
431

m/s

5.4

sec

2.3

km

Ion Disruptor
199,789
634
2,027

m/s

0.5

sec

0.9

km

Plasma Burst Generator
19,233
4,384
355

m/s

1.8

sec

0.6

km

Electro-Magnetic Plasma Cannon
314,136
125,654
588

m/s

3.4

sec

2.0

km

Concussion Impulse Generator
588,375
196,125
420

m/s

8.3

sec

3.5

km

Ion Pulse Generator
785,188
32,688
347

m/s

11.2

sec

3.9

km

Ion Shard Railgun
616,385
222,000
498

m/s

6.7

sec

3.3

km

Matter/Anti-Matter Launcher
601,441
222,929
445

m/s

8.2

sec

3.6

km

2 x Front turret
Shield/min
Hull/min
Projectile speed
Life-time
Distance
Impulse Ray Emitter
88,000
8,400
1,162

m/s

1.2

sec

1.4

km

Particle Accelerator Cannon
362,827
44,921
703

m/s

2.7

sec

1.9

km

Mass Driver
0
33,333
739

m/s

1.4

sec

1.0

km

Phased Repeater Gun
434,043
45,957
1,560

m/s

1.5

sec

2.3

km

Energy Bolt Chaingun
535,658
85,658
604

m/s

4.7

sec

2.8

km

Fragmentation Bomb Launcher
528,644
89,148
359

m/s

5.5

sec

2.0

km

High Energy Plasma Thrower
564,623
93,962
431

m/s

5.4

sec

2.3

km

Ion Disruptor
199,789
634
2,027

m/s

0.5

sec

0.9

km

Plasma Burst Generator
19,233
4,384
355

m/s

1.8

sec

0.6

km

Electro-Magnetic Plasma Cannon
314,136
125,654
588

m/s

3.4

sec

2.0

km

Concussion Impulse Generator
588,375
196,125
420

m/s

8.3

sec

3.5

km

Ion Pulse Generator
785,188
32,688
347

m/s

11.2

sec

3.9

km

Ion Shard Railgun
616,385
222,000
498

m/s

6.7

sec

3.3

km

Matter/Anti-Matter Launcher
601,441
222,929
445

m/s

8.2

sec

3.6

km

Plasma Beam Cannon
1,428,000
650,000
10,644

m/s

0.6

sec

5.9

km

Fusion Beam Cannon
540,000
771,429
2,661

m/s

2.5

sec

6.6

km

4 x Front turret
Shield/min
Hull/min
Projectile speed
Life-time
Distance
Impulse Ray Emitter
88,000
8,400
1,162

m/s

1.2

sec

1.4

km

Particle Accelerator Cannon
362,827
44,921
703

m/s

2.7

sec

1.9

km

Mass Driver
0
33,333
739

m/s

1.4

sec

1.0

km

Phased Repeater Gun
434,043
45,957
1,560

m/s

1.5

sec

2.3

km

Energy Bolt Chaingun
535,658
85,658
604

m/s

4.7

sec

2.8

km

Fragmentation Bomb Launcher
528,644
89,148
359

m/s

5.5

sec

2.0

km

High Energy Plasma Thrower
564,623
93,962
431

m/s

5.4

sec

2.3

km

Ion Disruptor
199,789
634
2,027

m/s

0.5

sec

0.9

km

Plasma Burst Generator
19,233
4,384
355

m/s

1.8

sec

0.6

km

Electro-Magnetic Plasma Cannon
314,136
125,654
588

m/s

3.4

sec

2.0

km

Concussion Impulse Generator
588,375
196,125
420

m/s

8.3

sec

3.5

km

Ion Pulse Generator
785,188
32,688
347

m/s

11.2

sec

3.9

km

Ion Shard Railgun
616,385
222,000
498

m/s

6.7

sec

3.3

km

Matter/Anti-Matter Launcher
601,441
222,929
445

m/s

8.2

sec

3.6

km
Missiles
Available missiles
Group
Damage
Projectile speed
Life-time
Distance
Mosquito Missile
Counter
200
700.0

m/s

20.1

secs

14.1

km

Wasp Missile
Light
1,000

x8

560.0

m/s

32.4

secs

18.1

km

Silkworm Missile
Light
19,000
228.0

m/s

123.0

secs

28.0

km

Hurricane Missile
Light
6,000
560.0

m/s

51.9

secs

29.1

km

Remote Guided Warhead
Light
100,000
170.0

m/s

465.0

secs

79.1

km

Firelance Missile
Light
4,500
600.0

m/s

30.5

secs

18.3

km

Wildfire Missile
Light
15,000
295.0

m/s

112.0

secs

33.0

km

Thunderbolt Missile
Medium
75,000
235.0

m/s

333.0

secs

78.3

km

Tempest Missile
Medium
60,000
235.0

m/s

264.0

secs

62.0

km

Cyclone Missile
Medium
23,000
175.0

m/s

338.0

secs

59.2

km

Tornado Missile
Medium
50,000

x8

312.0

m/s

80.0

secs

25.0

km

Windstalker Missile
Medium
30,000
220.0

m/s

101.0

secs

22.2

km

Banshee Missile
Medium
74,000
185.0

m/s

87.0

secs

16.1

km

Hornet Missile
Heavy
200,000
225.0

m/s

138.0

secs

31.1

km

Typhoon Missile
Heavy
30,000

x8

195.0

m/s

384.0

secs

74.9

km

Firestorm Torpedo
Heavy
1,000,000
198.0

m/s

501.0

secs

99.2

km

Poltergeist Missile
Tr_light
1,500

x8

250.0

m/s

50.0

secs

12.5

km

Beluga Missile
Tr_medium
100,000
255.0

m/s

350.0

secs

89.3

km

Hammerhead Missile
Tr_medium
1,250,000
205.0

m/s

401.0

secs

82.2

km

Spectre Missile
Tr_medium
260,000
228.0

m/s

106.0

secs

24.2

km

Wraith Missile
Tr_heavy
125,000

x8

170.0

m/s

300.0

secs

51.0

km

Boarding Pod
Boardingpod
5
650.0

m/s

138.5

secs

90.0

km

Dragonfly Missile
Dmbf
5,000
300.0

m/s

62.5

secs

18.8

km

Firefly Missile
Dmbf
1,500
690.0

m/s

24.0

secs

16.6

km

Aurora Missile
Dmbf
8,000
700.0

m/s

25.8

secs

18.1

km

Rapier Missile
Dmbf
1,000
780.0

m/s

49.0

secs

38.2

km
Comments
| | |
| --- | --- |
| | To post comments you need to register and log-in. |